How to Knit the Chevron Stitch
There are many different approaches to chevron knitting, but this beautiful stitch is the easiest and most common stitch!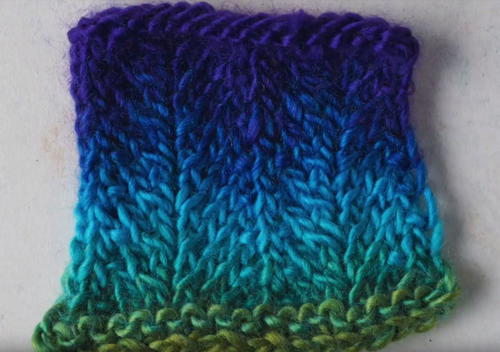 If you've browsed the archives of knitting patterns on AllFreeKnitting, you've probably come across a few examples of this iconic knitting stitch -- the chevron stitch.

This stitch is great for beginners who are ready to step their knitting up a notch. If you've been sticking mostly to stockinette and garter stitch for your beginner patterns, the way the V sides of this stitch angle towards each other might seem a little magical (and very pretty). But looks can be deceiving; this stitch is actually very easy to knit.

The wrong side rows are all purled, and the right side rows feature a combination of knitting, increases, and decreases that gives you a wonderfully wavy piece of fabric. Try this stitch out on a scarf or even an afghan, if you're feeling adventurous. While this stitch might take a few tries to memorize, you'll be knitting away in no time.
Materials
Yarn
Corresponding knitting needles
How to Knit the Chevron Stitch
1. Casting On
Cast on a multiple of 8 stitches, plus 2
3. Right Side Rows
Knit 1, knit front back, knit 1, slip-slip-knit, knit 2 together, knit 1

(Knit front back, knit front back, knit 1, slip-slip-knit, knit 1)

Repeat from ( ) until you have 2 sts remaining

Knit front back, knit 1
Tutorials You Might Need
If you're doing this stitch (or increasing and decreasing) for the first time, we've gathered some handy video tutorials that will help you through some techniques that might not be familiar to you.
Your Recently Viewed Projects