26 Straight Needle Knitting Patterns You Need
All of these free knitting pattern use two needles. What are you waiting for? Find your next straight knitting needle pattern today.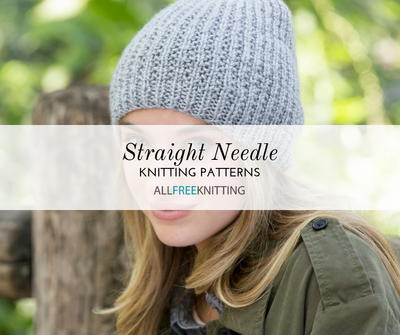 Straight needle knitting patterns are a mainstay of the knitting world. Most beginners learn how to knit on straight needles, and even advanced knitters love their straightforward simplicity.

Chances are good that you have straight needles in a variety of sizes just waiting to be put to use. But while it's a safe bet that most scarves are knit on straight needles, patterns with instructions on how to knit a hat with straight needles can be much harder to find, and knit sweater patterns harder still.

If you're on the hunt for these elusive patterns, you've come to the right place. Maybe you're a beginner still intimidated by knitting in the round, or maybe you're a seasoned veteran who's just not interested in dealing with double points and stitch markers at the moment. Whatever the reason, we've got you covered. These straight needle knitting patterns will are good for more than just knitting a hat with straight needles.

For knitters who are just starting out, the different types of knitting needles can be intimidating. If you're not quite ready to dive into the world of DPNs, circulars, and magic loop, we don't blame you! These straight needle patterns are perfect for both novices and experienced knitters, so you can experiment and find the best piece for your particular needs and skill level.

If you love these patterns, be sure to subscribe to our newsletter to get amazing knitting patterns like these delivered to your inbox every day!

These hat and sweater patterns range from the simple to the sophisticated, all of them wonderful additions to any wardrobe.

PLUS: Check out the video pattern below for an AllFreeKnitting Exclusive pattern!
Table of Contents
Flat Knit Hat Patterns for Beginners
Can you ever have too many hats? At AllFreeKnitting, we don't think so! Knitting a hat can be a totally relaxing process that gives you an opportunity to flex your crafting muscles in a unique way. Straight needle knitting patterns come in all shapes and sizes and these knit hat patterns are fun and functional.

As a staple piece of any winter wardrobe, a good knit hat should do more than just keep your head warm. You want to make something interesting enough that you'll want to wear again and again. With their simple but attractive designs, these patterns are a great way for beginners to learn how to knit a hat with straight needles.
Looking for straight needle patterns because your knitting supplies are getting so out of hand you can't imagine adding yet another circular needle? Check out 17 Stashbuster Knitting Patterns
Flat Knit Hat Patterns with Texture
Once you've moved beyond the basic garter, rib, and stockinette stitches, the possibilities are endless. Adorn your head with the classic curls of cables, or knit yourself a beanie with textured striping. These straight needle knitting patterns come in a variety of beautiful stitch patterns keep your fingers busy and your head warm.
Are you a hat fiend? The top toppers don't stop here! We have a ton of free hat patterns available on our site, but check out some of our favorites: 15+ Top Knit Hat Patterns Ever
Flat Knit Sweater Patterns
When you first started knitting, you probably dreamed of knitting yourself a sweater, then took a look at a pattern and filed that dream in the "maybe someday when it's not so scary" folder, never to be seen again. Beginner sweater patterns take the fear factor out of that dream by showing you how to knit a sweater with straight needles.

When you break it into smaller pieces you can check off as you complete them, a sweater starts to look a lot more approachable. These beautiful sweater patterns feature all of the warmth and accomplishment without having to to worry about knitting yourself in circles.
Flat Knit Cardigan Patterns
Every girl needs a couple of good cardigans. These light and versatile layers are a great way to dress your outfit up or down, or to keep your wardrobe prepared for autumn breezes and the arctic air conditioning in that one store. However you choose to wear them, you'll love the knit cardigans made from these straight needle knitting patterns.
Straight Needle Shawl Patterns
These straight needle knit shawl patterns are so stylish and so versatile. The hardest part will be deciding which one to knit first! Beginner knitters will love these simple patterns using straight needles. Before you know it, you will have a beautiful piece you will cherish for many years to come.

Plus, many of these shawls can be used as scarves, too, so you get two for the effort of one!
This printable pattern may look complex due to the lacey design, but you'd be surprised to hear that it's actually suitable for beginners. Patterns like these make you wonder why you ever bothered with circular needles!

Get This Pattern
The border on this shawl just makes it shine... one could say "like the sun." If you're looking for a straight needle knit to really impress your peers, this is the one.

Get This Pattern
This shawl is knit in the stole style, meaning that you could wear it either as a rectangular shawl or as a scarf, wrapped around your neck. The cheery color and lovely design is to-die-for!

Get This Pattern
Your Recently Viewed Projects