30 Easy Knit Sweater Patterns for Beginners
Take a look at this collection of free knitting patterns and learn how knitting a sweater can transform your winter wardrobe.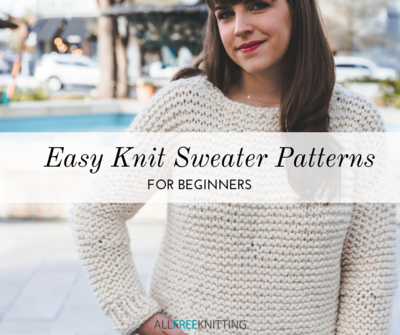 The knitting universe is full of intricate sweater patterns with detailed stitch work, a bevy of changing colors, complicated techniques, and stunning designs. Just look at the traditional Fair Isle sweaters that pop up during the holidays. These gorgeous knit sweater patterns are a dazzling display of shapes, colors, and geometric forms that take skeins upon skeins of yarn and weeks to complete.

There's no doubt that there are some beautiful works of art that can be knit with your own two hands.

But, if you're a first time knitter looking to create a functional, attractive sweater that doesn't have as many colors as the Sistine Chapel, you've come to the right place. When it comes to knitting a sweater, the following patterns are ideal for individuals of all skill levels.

In 30 Easy Knit Sweater Patterns for Beginners, we've combed through AllFreeKnitting and found some of our favorite easy sweater knitting patterns for beginners that won't take weeks to complete. In fact, you can finish most of these sweaters in a weekend! Even if you're a skilled knitter, every sweater you knit doesn't have to be a Mona Lisa. It's okay to have some finger painting in the mix every once in awhile, especially because the versatility and practicality of an easy sweater knitting pattern is hard to deny.

Seaming is hard! If you agree, by far the easiest way to knit a sweater is with raglan sleeves. Learn how to knit a raglan yoke below!


For more great projects like this, subscribe to our free email newsletter!
Table of Contents
Quick Pullover Knitting Patterns
Pullovers are great pieces to have. They're simple, non-fussy, and can be dressed down or dressed up. They're great for layering, but they also look great alone. This collection of easy knitting patterns is full of lightning-fast knit sweater patterns you can enjoy in no time.

Although knitting a sweater is always going to take longer than your average shawl or scarf to knit, it's almost unbelievable how quickly these sweaters work up. Knitting for beginners can be pretty painless if you have the right patterns to work with!
Quick Cardigan Knitting Patterns
Cardigan knitting patterns are great for when you're looking to achieve an effortless, polished look and don't necessarily want to wear a pullover style of sweater. The wonderful thing about cardigans is that you can never have too many. With this list of speedy sweaters, you can make them all in no time.

They even come in a variety of styles, so you're not limited to a certain kind of cardigan. Make a whole wardrobe full of them so you have plenty for every occasion, and even as a beginner knitter, you'll be all set on outerwear. When it comes to a free knit cardigan pattern, the possibilities are truly limitless.
Your Recently Viewed Projects