25 Christmas Knitting Ideas for Everyone On Your List
These Christmas knitting patterns will help you pick out the perfect knitted gift ideas for the holidays.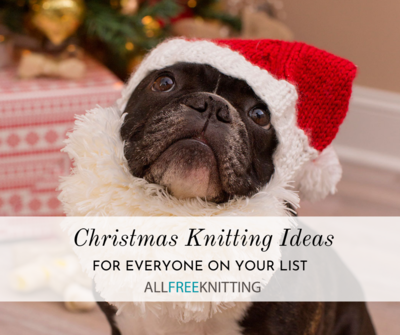 Christmas is one of the best times of the year to pull out all of your favorite free knitting patterns because knitted gifts are some of the most thoughtful presents you can give.

Giving someone a gift of a handmade snuggly sweater, a cozy scarf, or a festive pair of socks is a wonderful way to bring them some holiday cheer while also showing them how much you care. Plus, Christmas knitting patterns are just so full of joy and warmth that they're as much fun to give as they are to knit.

But choosing exactly which patterns to knit for your loved ones can be a challenge. Would your hubby prefer a sweater or a scarf? Would your granddaughter prefer a hat or a cowl? Would your best friend like fingerless gloves or boot cuffs? There are lots of choices to be made when it comes to knitting Christmas gifts, so this collection is here to help.

These Christmas Knitting Patterns for Everyone on Your List will help you choose just the right holiday knitting pattern for each one of your loved ones this holiday season.
Table of Contents
Your Recently Viewed Projects