27+ Knit Christmas Tree Ornament Patterns
Check out these festive knit Christmas tree ornaments for the best knitted Christmas decorations in town!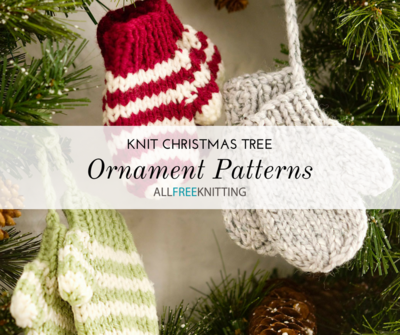 The Christmas season is always closer than it seems, so this year be extra prepared by checking out this collection of 27+ Knit Christmas Tree Ornament Patterns. Making these free Christmas ornament patterns together is a good way to spend quality time with family and friends and a fun way to pass the time.

One of the best parts of making your own ornaments is that these free knitting patterns will save you money! So select one (or a bunch!) of these patterns to work up for your Christmas tree. These ornaments also make the perfect knit gift, so if you make them now, your Christmas shopping will be easy peasy. 

If you love these patterns, be sure to subscribe to our newsletter to get amazing knitting patterns like these delivered to your inbox every day!

Even if you've never tried knitting a Christmas ornament before, there are some easy knitting patterns here, so you don't need to be intimidated. Or, if you're a pro at holiday knits, there are patterns here to challenge even experienced knitters. Whether you prefer funny and adorable or classic and traditional, there's something here to satisfy every holiday decor sensibility. You just have to choose your favorite, grab your needles, and cast on.
Table of Contents
Simple Knit Ornaments
These simple knit ornaments are the best choice for those who want an easy way to add some beautiful color to their Christmas tree. Without a doubt, you can't go wrong adding fun projects like these to your tree.

From knit mittens to teardrops to pointed stars, you will love how these look when you're done. Your tree will be the best one in the neighborhood. 

The next time you are in the mood to do a quick and easy holiday knit, choose one from this list! They can also be great ways to use up your yarn stash with a flair. Enjoy!
Christmas Ball Ornaments
Many of these Christmas ball ornaments are more intricate than the simple knits. They may take a little longer to complete, so they are perfect for bad weather days. Plus, what better way to sharpen your knitting skills than with Christmas cheer?

Ball ornaments have a traditional feel about them, and you will love to have that as part of your holiday home decor. If you are looking for a stand-out piece to add to your tree this year, then any of these holiday knitting patterns are perfect for you.
Unusual Christmas Ornaments
Tired of seeing the same Christmas ornaments on every tree? Then these unusual ornaments are what you have been looking for. Or maybe you have a friend who loves collecting unique and personal ornaments for their tree. These fun knitting patterns will make them very happy.

From Santa Claus to lovely angels to a partridge in a pear tree, these ornaments embody the spirit of Christmas unlike any others.

Of the patterns in this collection, these projects are the most unique. Set your tree apart from everyone else's by knitting these eye-catching patterns! You will be glad to see these hanging on from your tree's branches. 
Knitting Themed Ornaments
Anyone reading through this collection must have an undeniable passion for knitting. What better way to showcase that passion than by making adorable knitting themed ornaments for your tree? You'll love how cute these look adorning your tree.

Plus, do you need a great knit gift for one of your yarnie buddies? They would love to recieve one of these knitting themed Christmas ornaments, too! Knit them one of each, or give them a set in different colors. They will ooh and ahh.
BONUS! More Christmas Patterns
Because we know how much you loved the exciting collection of patterns above, we thought we'd throw in a few extra. Your home can never have too many pieces of knit decor, so we know you will love to make and use these patterns, too!

Have fun decorating the tree, presents, and more with these festive Christmas knits. Everyone who visits your home will be immediately filled with Christmas cheer and smiles. 

Have a happy holiday!
What are some of your favorite Christmas knits? Leave a comment below!
Your Recently Viewed Projects