36 Free Knitted Mitten Patterns
Your hands will be forever grateful when you learn how to knit mittens with a wonderful mittens knitting pattern!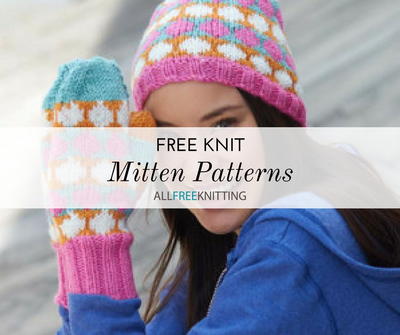 Who doesn't love to feel the fuzzy warmth of knit mittens around their fingers? It seems to be especially enjoyable when the cold of winter rolls in. Even if you live in a warmer climate, you probably have friends that could use one of these free mittens knitting patterns. Now, there are a million and ten places you can go to quickly buy a pair of store-bought mittens to keep your hands "warm" this winter. I'm here to tell you that they won't be worth it. Those cheap ones you can buy at a drug store will immediately rip and probably won't be able to stand up to a single snowball. Those weird hi-tech ones will be way too stiff for any attempt at fine motor skills, let alone holding a shovel. Beautiful, cozy, hand knit mittens for every member of your family is the way to go.

Why, you ask? Warm winter mittens are the type of knitting patterns that get passed down from generation to generation. A good pair of nicely knit mitts will last you for years, and they'll hold sentimental value that a store can't provide. By making your own mittens, you can customize them any way you want. Make them more masculine for your brother, or add a pom pom for your little sister. The possibilities are endless when it comes to mitten patterns. Keep your hands and fingers feeling nice and toasty during the bitter winter months by working up one of these winter knit patterns today.

Sign Up for Free Patterns

Do you feel as if you're always misplacing one of your mittens or perhaps the full set? If so, you have come to the right place. You can work up one of these patterns in a short amount of time, so you never need to worry about your fingers being cold when the temperature starts to drop. Knitted mittens also make a perfect knit gift for any family member or friend.

Perhaps you have even considered knitting for charity. Once you know how to knit mittens, they're a great way to spread joy and good tidings - especially during the holiday season. You can make a few pairs, donate them to a local organization, and feel good about helping others during their time of need. Prepare to be blown away by the varied selection in this great mitten collection.
Table of Contents
Free Knitted Mitten Patterns for the Little Ones
Many people have fond memories of mittens knit by mom or grandma when they were young. Join in an age long tradition and knit your child some mittens to cherish. These top-notch knit mitten patterns will keep your child's fingers warm and toasty, no matter how cold it gets outside. One of the great things about knitting is the ability to create treasured gifts for others.

Your child will love these knitted mittens. The advantage of knitting for your child is that the pattern's scale is smaller; your project will go faster and use less yarn. You can try out new stitches and techniques on these children's patterns.
Cozy Knit Mitten Patterns
It's all too easy to get caught up in the gift giving spirit of knitting and forget about yourself. You deserve some cozy knit mittens as much as the next person! Why not try out one of these patterns for yourself?  Slipping on a pair of perfect-fit, handmade mittens will make you feel warm and accomplished.

You don't need to make a perfect pair--the satisfaction that you'll get from knitting for youself will be enough motivation for both the right and left mitten.
"There's nothing better than a pair of cozy mittens as cold weather hits. Unless its a pair of mittens you can whip up in a few hours!" -Anne from flaxandtwine.com
"One of my favorite things about knitting for myself is the opportunity to make sure garments fit perfectly. When I make my own mittens, I don't have to worry about them being too large for my thumbs – I can make sure they fit just right, and my hands stay nice and warm!" -Hannah Wareham from thehomesteady.com
Do you want to learn how to make your mittens extra warm and cozy? You'll have to learn how to thrum knit! Check out how to add thrums to your knit while you work, or include them later, in this handy guide: Thrum Knitting: The Coziest Way to Knit
Women's Knitted Mitten Patterns
These knit mitten patterns are just for the ladies out there. Elegant and attractive, you'll enjoy knitting up these mittens almost as much as you like wearing them. The designs on these mitten patterns are a little more complex than those found on plain gloves. Make sure to read through the pattern before you cast on. With a little bit of patience, you will be decked out in the most stylish mittens in town.

Thankfully, you don't need to know every knitting technique in the book to master these patterns. A basic knowledge of how to cable knit will be enough to get you through these patterns with ease.
Even More Mittens and Gloves
Can't get enough of these knit mittens? Don't worry, we've collected a couple of bonus patterns just for you. These mitts will keep your hands warm and cozy. These patterns will give you great ideas for what to knit next. You don't need to be a knitting master to make these fun gloves. Just cast on and get started--these mitts will fly off of your needles in no time.

Perfect for last minute gifts, mitts are a great way to make a person feel special without having to get the exact dimensions right.
If you love these mitten and glove patterns, be sure to check out
Your Recently Viewed Projects