How to Read a Knitting Pattern
Learning to read knitting patterns is more than just knowing the abbreviations! This how to guide will help you get started.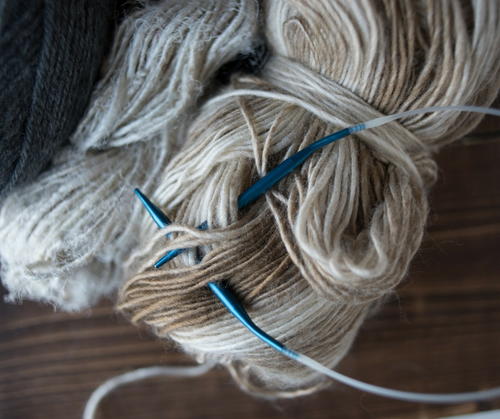 Let's be honest. Knitting patterns look like they're written in a different language. But learning how to read knitting patterns does not have to be that complicated!

The biggest hurdle that new knitters have to overcome when learning to read a knitting pattern is learning the abbreviations. Yeah, there are a lot of them, but most of them are common sense, and once you learn the ones you need for your pattern, you'll be reading them without a second thought.

On top of that, there are brackets and parentheses and asterisks! Oh, my!

From sizes to brackets and asterisks, we'll demystify the mystery behind intimidating knitting lingo and help you start knitting from a pattern with ease.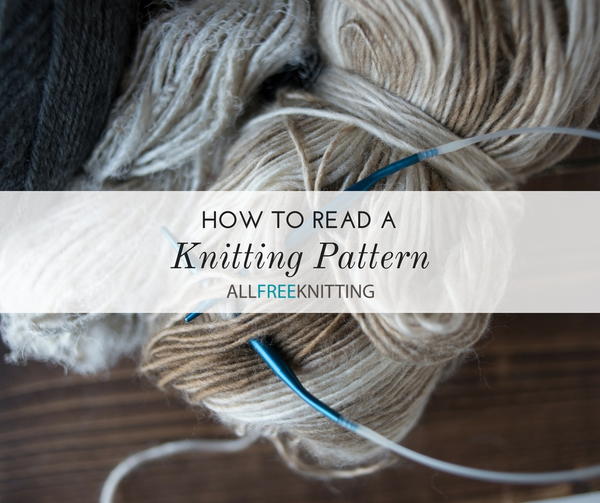 Knitting Terminology
One of the hardest things for beginner knitters to learn is all of the terminologies needed to read patterns, charts, and articles about knitting. Most of the weird words and phrases start to make sense once you actually get to the knitting itself, but they can be off-putting, especially if you've come across a word or abbreviation in your pattern that you just don't understand.

Luckily we've created a knitting dictionary of knitting terms for you to use to help make reading a knitting chart just a little bit easier:


Knitting Abbreviations
The biggest barrier for most people when it comes to reading knitting patterns is all of those abbreviations. Sometimes they're easy to understand (K = knit, P = purl), but what does k2tog mean? And what on Earth is an SSK?

These most common knitting abbreviations are the ones you will encounter the most:


Abbreviation
Definition
alt
alternate
beg
beginning
bet
between
BO
bind off
cast off (UK)
CA, CB
color A,
color B
CC
contrasting
color
cn
cable needle
CO
cast on
cont
continue
dec(s)
decrease(s)
decreasing
dpn
double point
needle(s)
EON
end of needle
EOR
end of row
FC
front cross
fl
front loop(s)
foll
follow(s)
following
grp(s)
groups
inc
increase(s)
increasing
K
knit
k2tog
knit two
together
kwise
knitwise
LH
left hand
lp(s)
loop(s)
M1
make one stitch
MB
make bobble
MC
main color
P
purl
pm
place marker
pop
popcorn
p2tog
purl two
together
prev
previous
psso
pass slipped
stitch over
pwise
purlwise
rem
remain(ing)
rep
repeat(s)
RH
right hand
rnd(s)
round(s)
RS
right side
sk
skip
skp
skip, knit, pass
stitch over
sk2p
slip one, knit two
together, pass slip
stitch over the knit
sl
slip
sl1k
slip 1 knitwise
sl1p
slip 1 purlwise
sl st(s)
slip stitch(es)
ssk
slip, slip, knit
st(s)
stitch(es)
T2L
T2R
twist two to the left
twist two to the right
tbl
through back loop
tog
together
won
wool over needle
wrn
wool around needle
WS
wrong side
wyib
with yarn in back
wyif
with yarn in front
yd(s)
yard(s)
yo
yfwd (UK)
yarn over
yarn forward
yrn
yarn around needle
yon
yarn over needle
Sizing Instructions
Depending on what the pattern is for, there may be sizing instructions written into the pattern. This allows the designer to create one pattern for all sizes instead of duplicating the pattern and adjusting the instructions for each size. Knitted sweaters, cardigans, and shawls often come with sizing instructions.

If the knitting pattern is written for multiple sizes, it will look something like this:


Child's size: 2 (4-6) or Child's size: 2 (4, 6)
Here's what that means:
Let's say you're making the child's size 4. As you work through the instructions, there will come a point where the instructions say something like this:


With smaller needles, cast on 52 (58-64) sts
or With smaller needles, cast on 52 (58, 64) sts.
Here's what you do:
To make the smallest size (2), you would cast on 52 stitches. For the medium size (4), you would cast on 58 stitches.

Where there's no number in parentheses, you do what it says; for instance, if it said Knit 5 rows you would do that for all sizes. If it said Knit 5 (7, 9) rows, you'd knit as many rows as indicated for your size (5 rows for the smallest size, 7 rows for the medium, 9 rows for the large).

Where there's something in parentheses, you stick with the number in the position that correlates to the number in the sizing.
Asterisks
Asterisks are used to indicate parts of patterns that repeat. For example:


1st row: (RS). P2. *K2. P2. Rep from * to end of row.
What that means is that you're going to work the stitches between the asterisks as many times as indicated. So for the example above, you'd P2, then k2, p2, k2, p2, repeating the "k2, p2" part of the pattern until you reach the end of the row.

There are also times when there will be two sets of asterisks, a single, a double, and another single in the same row. If that's the case you repeat from * to * as many times as indicated, and then work from * to ** for the last repeat, then finish the row as indicated. This is sometimes done to visually balance a pattern and to save space.

Also, it might be that there are pairs of asterisks to tell you what to repeat for a major part of a pattern. For instance, if the back and front of a sweater are knit in the same way except for how you shape the armholes or the neck, the instructions for the front might start with ** and then where the armhole shaping starts, there might be **. Then the back would tell you to work from ** to **, basically telling you to go back to the instructions for the front and work them to that point for the back.
Brackets
Brackets in knitting patterns have two purposes, depending on what the designer needs them for. They can be used for sizing instructions or repeats.

I know what you're thinking -- don't we already have parentheses and asterisks for that?

Sometimes brackets are used instead of parentheses for sizing instructions for visual purposes. Other times they're used similarly to asterisks to indicate that something's repeated; some designers find brackets to be easier to follow than asterisks, especially for patterns that have a lot of repeats.

Let's say you have instructions that read *k 2, p 2+ 6 times. In this case, you would knit 2 and purl 2, then repeat the k 2 and p 2 five more times. If the brackets weren't used, you might not know what part of the step you were supposed to repeat 6 times.
Your Recently Viewed Projects