6 Stretchy Cast On Methods
Learn a stretchy cast on for socks, sweaters, and more!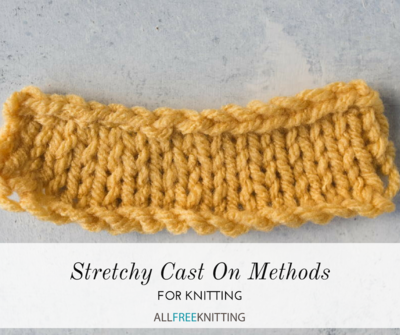 There comes a time in your knitting journey when you begin to find that patterns stop holding your hand through the process and basically let you choose-your-own-adventure when it comes to completing your knitted piece. Suddenly, they're just telling you to "use a stretchy cast on" for your hat, sweater, or socks—and you're left to your own defenses to figure out exactly what they mean by that. The truth is that you have a lot of options when it comes to knitting cast on methods. Stretchy ones, in particular, are abound, because wearables are popular in knitting and it's important to be able to easily take the garment on and off.

Here at AllFreeKnitting, we have an arsenal of picture and video tutorials for more cast on methods than you'll likely ever need, so we thought it would help you out to gather a few options for stretchy cast ons for reference. Nearly all of these are beginner-friendly, so whether you're knitting sweaters or leg warmers, we have for you a perfect cast on method. Stretchy cast ons all vary in use and stretchiness, so we'll explore all of your options below, in order of least stretchy to most stretchy.

For more great projects like this, subscribe to our free email newsletter!
Table of Contents
Knitting Cast On Methods: Stretchy, Stretchier, and Stretchiest!
What's your favorite stretchy cast on?
Your Recently Viewed Projects