How to Knit the Chevron Lace Stitch
This simple, four-row repeat lace stitch is versatile and really beautiful!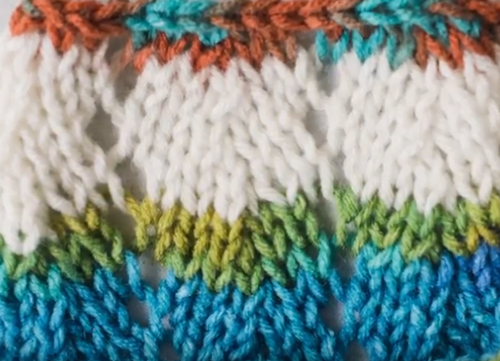 How to Knit Chevron Lace
If you're looking to spice up your typical knitting routine by learning a new lace stitch that's easy to memorize, this stitch pattern is the one for you. Chevron lace is a great pattern to use if you're looking to add a little bit of openwork to a scarf or hat.

The "chevron" part of this pattern comes from the placement of the increases and decreases. While most lace knitting puts the yarn over and the k2tog (or stitches of choice) right next to each other, this pattern spaces them out a little bit. Doing this allows the stockinette portion of the pattern to show more, and it angles the stitches in towards each other in columns that look like chevrons!

Pattern
CO a multiple of 6 sts + 2

Row 1 (RS): K1, (yo, k2, k2tog, k2), repeat ( ) until you have 1 st left, k1

Row 2 (and all WS rows): P all sts

Row 3: K1, (k2, k2tog, k2, yo), repeat ( ) until you have 1 st left, k1

Repeat rows 1-3 until your fabric has reached the desired length
Your Recently Viewed Projects