7 Free Knitting Charts: Flowers
These two color-knitting free flower patterns can be added to any simple knit for a bit of springtime whimsy.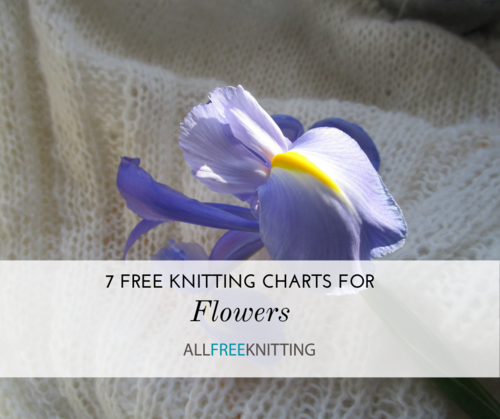 Floral patterns have been used in knitting for longer than anyone on this earth has been around. From the old fair isle snowflake flower to more modern interpretations, knitting allows us to translate the beauty of nature into a wearable form. The simplest way to do this is through stranded knitting, so we've put together some knitting charts for flowers for you to incorporate into any stockinette stitch pattern in which they'll fit. You can choose whatever colors you wish to knit these flowers for a special Easter outfit, a springy table runner, or even an impressively intricate blanket.

To start things off easy, we've included a simple flower pattern of a nondescript sort which could be effortlessly duplicate stitched into any existing project or incorporated around another more detailed chart as an accent piece. Then, we've created six specific, more intricate charts to serve as the focal pieces of whatever article you're knitting. Do keep in mind that sometimes the floats will be rather long, if you choose to add these to your patterns via stranded knitting, so make sure you catch your floats regularly.

These knitting charts for flowers are to be read right to left on the right side, and left to right on the wrong side. Therefore, if you're knitting in the round (and so always knitting on the right side), you'll read the chart from right to left only. Any of these charts could easily be converted to a one-color knit-and-purl chart. Simply knit the blank spaces and purl the colored spaces on the right side, and do the opposite on the wrong side. It's that easy!

Without further ado, enjoy these free knitting charts for flowers!

Download All 7 Knitting Charts for Flowers


OR

Scroll down and find your favorite!
Your Recently Viewed Projects