21 Fall Knitting Patterns
These 21 knitting patterns will keep you toasty warm during the autumn months.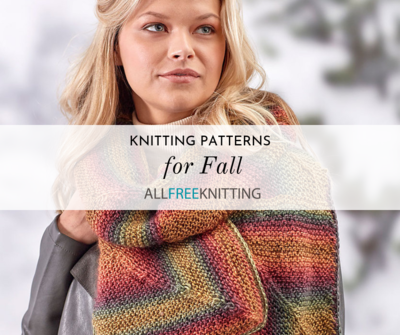 There's nothing cozier than cuddling up in a brand new knitted sweater when the weather gets cold. There are so many perfect knitting patterns for cooler weather, so take your time browsing this collection of fall knitting patterns and find your new favorite. Whether you're looking at tackling a nice knit hat or have your sights set on a lovely cardigan for autumn, you're sure to be inspired by the patterns on this list. Knitting season is upon us, everyone, and it's time to go in full-force!

If you're just learning how to knit, there are several easy knitting patterns that will suit your skills just fine. If you're an intermediate or advanced knitter, there are knit sweater patterns, scarves, and hats with intricate designs and gorgeous stitchwork here for you to love as well. So what are you waiting for? Whether you're a beginner or advanced knitter, you'll find something in this list that you'll want to start knitting right away.
Table of Contents
Knit Sweater Patterns
These free knitting patterns are also perfect for fall because they marry vibrant colors with not-too-bulky design, like the Painted Glass Knitted Sweater Pattern. If you adore cozy fall sweaters, you'll simply love these patterns. Pair any of these sweaters with jeans for a simple, dressed-down look, or dress them up with slacks and jewelry of your choice. You'll love your cozy, stylish new wardrobe staples. You'll also love how accomplished you feel after finishing one of these easy knitted sweater patterns.
Knit Accessories for Fall
This season is the season for accessories! Perhaps it's not cool out enough yet for a knit jacket or mittens, but there are a ton of hats, boot cuffs, scarves, and fingerless gloves that will serve you perfectly in the transitional weather. Complete with warm autumnal colors and mid-weight constructions (so as to not drown you in fabric), these fun-to-knit designs will prepare you for the incoming chill without suffocating you.
Knit Cardigans and Coats
Layering is truly the way to go in the autumn! There's no need to throw all of your summer clothes in the back of the closet yet, because a great way to transition to the cooler weather is to simply chuck on a nice, warm cardigan or jacket. After all, at this time of year, it can still be quite warm during the day but much cooler at night, so you're going to want to prepare yourself for the change in weather with something you can quickly slip on or off.
Your Recently Viewed Projects