18 Unique Knits to Try When You're Bored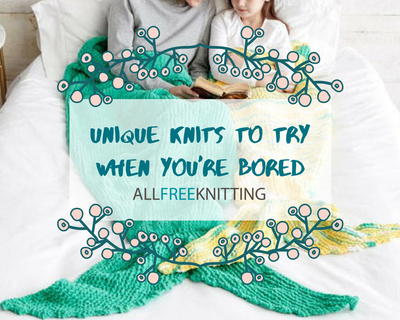 Knit out of your comfort zone!
It happens to the best of us doesn't it,  the sheer boredom that comes after the twelfth stockinette scarf in a row, after the tenth Crazy Colored Afghan and the twentieth chunky knit hat. What we need are some fun and unique knitting patterns that are different enough to stimulate our minds and impress our friends! We only need so many of these things and we all deserve some variety in our life! Of course, there are plenty of different stitch patterns to keep things interesting and there're different color schemes you could try. But a colorful-cable knit sweater is still just a sweater. You already have a closet full of knit pullovers and cardigans, not to mention the fact that your friends are starting to get sick of getting them as presents.

Knitting is an incredibly versatile craft; it's absolutely amazing what two needles, it's just that sometimes we get so caught up in the routineness of the craft that something that once brought us joy becomes boring. That's where these unique patterns come in. Why not give yourself a challenge that doesn't involve learning a new stitch? Maybe you could knit yourself some flowers to decorate your table during dinner parties. Knit a small "diamond" ring for your kids to play dress up with. Go beyond just knitting mug cozies; make a full-blown mug sweater instead! Heck, throw together a knit amigurumi kiwi just because they're cute!

Knit something outside your comfort zone and who knows, maybe you'll end up letting your imagination take flight.

What's the weirdest thing that you've ever knitted?
Table of Contents
Unique Wearable Patterns
Who said scarves had to look like scarves? These unique wearable knit patterns are here to prove that even the most basic of knitwear items can be made extraordinary with a bit of imagination. Make a statement with a fruit-inspired tote, or a scarf of knit chain links! If you really want to go outside the box, perhaps you could think about adapting your favorite sweater pattern to fit a chicken, your local farm would appreciate it! 
Unique Home Decor Patterns
If the standard fair of catalog blankets and dishcloths don't quite tickle your fancy, then we have plenty of unique home decor patterns to liven up your home. Why does a towel just have to be a towel when you can knit a message onto it? Why can't your dish scrubby have a cute puppy face on it? Why can't you or your child pretend to be a mermaid while watching Disney movies? The answer is there's no good answer, so you might as well have fun littering your kitchen and living room with unique yarn designs.  
Unique Toy Patterns
Nothing is quite as rewarding as challenging yourself with an amazing knit toy pattern. You can knit so much more for birthdays and baby showers than hats and afghans. Below are some knit patterns sure to impress any gift receiver, whether they be child or adult. There's a knit Kiwi Bird for all of you with ornithology-obsessed friends, or pen pals in New Zealand. Know some die-hard fans of Harry Potter? Suprise them with a knit mandrake just like the one in the first movie. There's even a square-bear stuffed animal design that could easily double as a pillow in a child's room. 
Your Recently Viewed Projects