52 Slouchy Beanie Knitting Patterns
These slouchy beanie knitting patterns are great for knitters of all skill levels. Learn how to knit a beanie for beginners in one convenient place.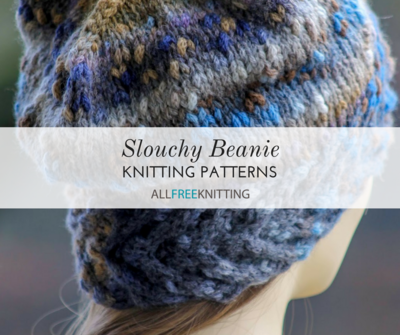 Slouch, slouch, everywhere! It's no mystery why slouchy hats are in style, with their effortless, artistic urbanity. With this collection of slouchy beanie knitting patterns, you, too, will have the power to knit the perfect slouch.

Before you get started on your new favorite hat, it's important to learn the best yarn for slouchy beanie knitting patterns. When it comes to slouchy hats, not all yarn is created equal. Especially for beginner knitters, it's important to work with a yarn with a high wool content.

A superwash yarn will have a nice amount of stretch and will hold its shape very well. A 100% wool yarn will also work well due to the ability to stretch without stretching too much and losing shape (unlike a 100% alpaca yarn). Wool yarn also does not become too rigid like most plan based fibers, but keep in mind that caring for 100% wool yarn is different from other fibers.
 
If you love these knitting patterns, be sure to subscribe to our newsletter to get amazing knitting patterns like these delivered to your inbox every day!
When in doubt, it's best to use the yarn indicated on the pattern you're using to ensure your slouchy beanie will come out looking its best. However, if you do need to substitute the yarn or you're not working off of a specific pattern, a yarn with a high wool content is most likely your best bet.
Before you pick your favorite slouchy beanie to start from the list below, check out our quick instructions on how to knit a slouchy beanie below.
Table of Contents
How to Knit a Slouchy Beanie
It's not rocket science! Knitting a slouchy beanie is simpler than you might think; in fact, it's super easy to take almost any brim-up knitted hat pattern and turn it slouchy. Follow these basic instructions to knit a slouchy hat:
Knit the brim of the hat according to the pattern or according to your own measurements (check out our chart on hat sizing if you need some help with this!)
Knit the body of your hat up until the pattern tells you to begin decreasing
Rather than decreasing, continue knitting! The amount of extra length you choose to knit is entirely dependant on the amount of slouch you want your hat to have, but around 8.5-10" from the cast-on edge is the typical range of slouchy beanies. Feel free to knit more (or less) depending on your preferences.
Decrease for the crown according to pattern instructions.
It's that simple! Rather than doing the heavy-lifting yourself, feel free to check out the free patterns below, which will give you step-by-step instructions on how to knit a slouchy beanie that's perfect for your tastes.
Simple Slouchy Knit Hat Patterns
Sometimes, simpler is better. In this section, learn how to knit a beautiful, basic slouchy beanie with no surprises. Solid or multicolor, slightly slouchy or super slouchy, you still have options. If you're really ambitious, you can make a beanie to match one of a beautiful kimono pattern or a gorgeous ombre shawl.

The sheer simplicity of these slouchy beanie knitting patterns make them all the more customizable, and all the more uniquely yours. Anyone can buy a slouchy beanie at a department store, but there's no question you'll be the only one in the room with an original knit slouchy hat.
How to Make a Beret
The best part about berets is that their very design is slouchy! Unlike the typical slouchy hat, these hats rest as a circle on the back of the head with little to no forehead coverage, just like the Irish revolutionaries used to wear, only much prettier.

These slouchy beanie knitting patterns for berets are perfect for the artist in your life. Such artsy patterns deserve matching jewelry, so gift your friend a hand-knit set, or keep it all for yourself.
Slouchy Knit Pom Pom Hats
Move over, Santa Claus! Pom poms aren't just for the North Pole. Even when it's not frigid outside, these fun, puffy balls of yarn make any accessory instantly cuter. If you're a fan of all things exciting and adorable, you'll want to learn how to knit a slouchy beanie adorned with pom poms.

Before you check out these slouchy beanie knitting patterns even Grandma would be proud of, you're going to want to learn how to make pom poms. Once you've got the easy-as-pie yarn balls down, you're ready to get started on these perfectly puffy winter hats.
Slouchy Ribbed and Cable Knit Hats
Just when you thought you've seen all the slouchy beanie knitting patterns known to man, you find these ribbed and cabled treasures. Rather than accented with a pom pom, these patterns feature special knitting techniques that give your slouchy hat a textured look. All it takes to learn how to knit one of these bad boys is to learn how to knit cables and how to knit ribbing!

Once you have those basics down, making a cool slouchy hat like these is a breeze. Whether you can cable and rib in your sleep, or you still have a lot to learn, you won't regret making these fashionable fancy-stitched slouchy hats.
If you still have a bit of learning to do, or if you're an advanced knitter who wants to brush up on the basics before learning how to knit a slouchy beanie, be sure to check out
Your Recently Viewed Projects