"9 Christmas Knitting Patterns: Easy Knit Scarves for the Holidays" eBook
By: Caitlin Kavanaugh, Editor for AllFreeKnitting.com

Free Knitting Patterns with AllFreeKnitting: 9 Christmas Knitting Patterns: Easy Knit Scarves for the Holidays eBook
As you start to prepare for the holiday season, get your knitting inspiration inside this eBook that features 9 scarf knitting instructions. Scarves make wonderful gifts for a number of reasons, but I find the most important is because of their practicality - they're great for every season. Wear lacy designs in the spring and summer time or sport a bulky scarf during the chilly winter. If you're short on time, or if your gift list is extra-long, scarves are presents that can be made quickly without sacrificing style or heart. Inside 9 Christmas Knitting Patterns: Easy Knit Scarves for the Holidays eBook you'll find simple Christmas craft patterns that will help you create homemade gifts for your whole family. Whether you're looking for easy diy christmas crafts, chunky knit scarf patterns or just general free knitting patterns for Christmas, this eBook will make your gift giving completely hassle-free.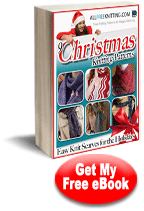 Download your copy of 9 Christmas Knitting Patterns: Easy Knit Scarves for the Holidays today.
Free Christmas Knitting Patterns: Beginner Montgomery Scarf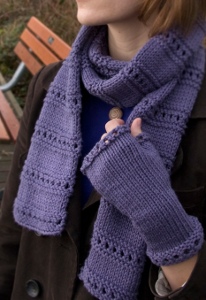 With all of the rush for gathering the right gifts, Christmas can be a hectic time, especially if you have a large family. Give yourself a break this year and use the nine scarf knitting patterns in this eBook as your present inspiration. Save yourself the time you'd take browsing store after store for all the perfect gifts and find them all in this handy collection. This beautiful Beginner Montgomery Scarf is just one of the gift ideas included in this free eBook. Even if you just learned how to knit a scarf, this pattern is simple - large sections of the basic stockinette stitch are striped with bands of knit eyelets. Perfect for both fall and winter, this stylish scarf is a gift that even beginner knitters can tackle with confidence. After all, every skill level should be able to create custom and stylish gifts for the people they love.

Scarf Knitting Instructions: Knit Bacon Scarf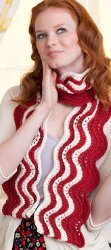 For those of you who have given loved ones knit items for Christmas before, you're probably looking for patterns that go a little outside of the box. This Bacon Scarf is just the thing you need to spice up your gift-giving. This isn't your typical free lace scarf knitting pattern; it's modeled after meat! With bold white-and-red stripes, this pattern has a retro touch and pretty lace detailing. It's a fun scarf to knit for the name alone, but it's stylish enough to also knit and give as a gift. Just follow the lace knitting chart patterns and you'll have a scarf that's ready to wrap and place under the tree. It might look complicated, but this lace scarf free knitting pattern is actually easy to follow. Try experimenting with different colors if you want to create a scarf that's more conventional. Get creative with these scarf knitting instructions and make a scarf in your friend's favorite colors. What's better than a homemade gift in your favorite hues?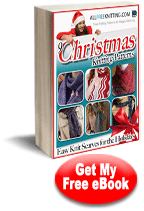 Download your copy of 9 Christmas Knitting Patterns: Easy Knit Scarves for the Holidays today.
Don't allow yourself to be stressed this holiday season; you have all the knit gifts ideas you need in the 9 Christmas Knitting Patterns: Easy Knit Scarves for the Holidays eBook. Find a group of simple designs and make creative homemade gifts for your whole family. Even if you've only just learned the craft, many of these patterns are simple enough for a beginner and you'll love how they turn out once you finish them. As you follow these scarf knitting instructions, I encourage you to have fun and play with the colors and add your own embellishments, like fringe. These personal touches are what homemade gifts are about – giving someone you love a gift that's crafted straight from where it counts, the heart.

Lace Knitting Chart Patterns: Grape Vines Scarf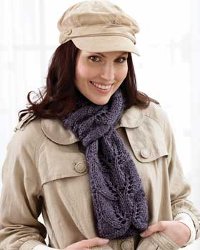 Knitting Christmas motifs for the holidays can be great for festive decorating, but if you want to pass along a gift that people can use even after the celebration is over, this eBook has a stunning collection of knit gift ideas I know you will enjoy. This Grape Vines Scarf uses simple decreases and yarn overs to create an elegant and sophisticated scarf with a leaf-like pattern that can be worn during the winter and fall. It's a design that will make creating handmade gifts a blast. Why go handmade? Handmade gifts are customizable, fun to make and can even help you save a little money. With this eBook you'll be able to choose your own pattern so that all your family can receive a Christmas scarf knit with love!
Free Knitted Patterns for Christmas: Garter Entrelac Scarf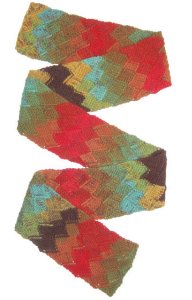 Before you get started making all of your homemade Christmas gifts, you need to plan a couple of things: how many gifts do you need and what's the skill level required of each gift you're making. Selecting easy Christmas crafts is always a good idea, even if you're more of an experienced knitter, but sometimes it's nice to take on a challenge. If you find that you have a little extra time on your hands, this Garter Entrelac Scarf is a great project to take on. Made with the entrelac stitch, this cozy scarf is exceptional at blocking out cold winter winds. This is also one of those Christmas craft patterns that look as good in a solid color as it does in a variety of hues. If you're not into entrelac patterns, you'll find plenty of Christmas crafts to make for friends and family in this special holiday collection.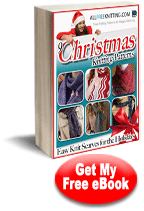 Download your copy of 9 Christmas Knitting Patterns: Easy Knit Scarves for the Holidays today.
With your free copy of 9 Christmas Knitting Patterns: Easy Knit Scarves for the Holidays eBook you can also subscribe to our Knit Picky Patterns newsletter to become part of a helpful and friendly knitting community. In subscribing to the newsletter you will receive:

Five weekly emails with free knitting patterns, tips, collection pages, videos and more.
Chances to win knitting books and products from our weekly giveaways and contests.
New FREE knitting patterns made available to you throughout the year.
Access to our free pattern library full of over 1,000 more free knitting patterns.
The opportunity to share ideas and help others in the knitting community.


As a thrifty knitter who enjoys making your own gifts for family and friends, I know you will enjoy this free eBook. Practice your love for knitting with the free 9 Christmas Knitting Patterns: Easy Knit Scarves for the Holidays eBook. Once you subscribe to receive our newsletter, Knit Picky Patterns, you'll see how incredibly rewarding it is to be a part of the knitting community! If you've ever searched for free knitting patterns, free knitting Christmas motifs, scarf knitting instructions or anything in between, let AllFreeKnitting.com deliver quality patterns and ideas from talented designers. Check out this free eBook and the AllFreeKnitting.com site to draw tons of knitting inspiration!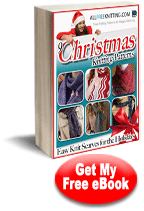 Download your copy of 9 Christmas Knitting Patterns: Easy Knit Scarves for the Holidays today.
Tags / Related Topics
Your Recently Viewed Projects
Images from other crafters

Love these projects? Get MORE delivered to your Inbox – FREE Click Here!