20 Super Cute Knit Baby Sweater Patterns
These sweater knitting patterns for babies will make the perfect gift!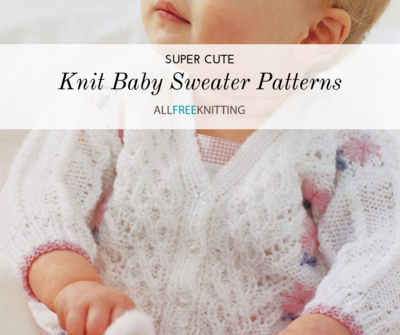 Any time you get invited to a baby shower, there's that moment of panic — what will you buy this time? While it's easiest (and appreciated by the host) to purchase a gift straight from the registry, there's something extra special about pairing that store-bought present with a handmade knitted gift that's rich in personality. Even if you're short on time, you won't have to worry.

This collection of ultra-cute baby sweater patterns can easily be made in a weekend or less, depending on how fast you knit. To speak to all different types of skill levels, we've included simple beginner knitting patterns right along with lace, cable, and colorwork projects for the more experienced knitter. Depending on the colors of yarn you select, each one of these baby sweater patterns will make a thoughtful gift for your next baby shower.

So have fun whipping up a fast and adorable project that will be cherished and passed down for years to come.
Table of Contents
Boldly Colored Baby Sweater Patterns
For those who enjoy bright, show-stopping projects, this selection of knits should speak to you.  Experiment with some of your most colorful skeins of yarn to create a one-of-a-kind gift for the new baby. You can choose cooler colors for a boy, or warmer colors for a girl, or if you have no idea what the sex of the baby is yet, just go wild and choose whatever colors you love the most! These bright baby sweater patterns are sure to make a statement, and baby will love to cuddle up in these sweaters. Plus, with the right yarn, these sweaters will be super duper soft, which is perfect for baby.
Beginner Baby Patterns
Whether you're new to knitting or you just want a project that's quick and relaxing, these patterns have you covered. Just give the Garter Stitch Baby Cardigan (shown) a try and discover how beautiful the easy knit stitch can be. Sweaters are considered some of the most difficult knitting projects, but we've managed to scrape up a few that are a little bit simpler than the rest, and just as adorable. Everyone will think you have been knitting for years! Knit up a few to have on hand for the little ones coming in your life. We hope you love them as much as we do.
Timeless Baby Sweater Knitting Patterns
For baby sweaters that feature a whimsical twist, this group of designs should whet your appetite for adorable projects.  The Tiny Truck Sweater is one of our favorites; we just love the simple, vintage look of its design. A lot of new mothers and grandmothers look to what their parents dressed them up in as a youngster to decide on the baby sweater patterns they choose for their own little tykes, and we can't blame them. There's just something about that classic look that works for babies. Here are a few that we think you'll love if you plan on following in your parents' footsteps. And baby will love them too!
Your Recently Viewed Projects