Colorwork Knitting Patterns: 21 Dazzling Designs
These amazing colorwork knitting patterns are perfect for knitters of any skill level!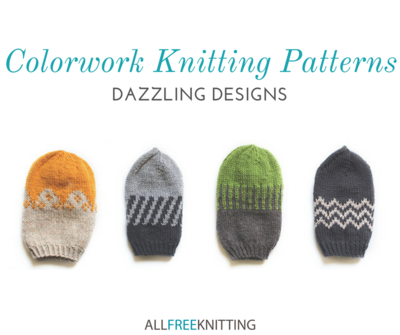 When you're first learning how to knit, the thought of introducing another color into the mix may seem like a pipe dream. Beginning knitters tend to be focused on mastering basic stitches and honing fundamental skills—all while trying to keep the finished piece from unraveling. 

However, the fact of the matter is that colorwork knitting is not as daunting as it may appear. Incorporating multiple colors into your knitwear opens the door to myriad design possibilities. Stranded color knitting infuses texture, interest, and dimensionality to basic patterns and pieces.
Table of Contents
Beginning Colorwork Knitting
For those of you who are looking to dip your feet into the colorwork knitting pond, come on in. The secret to becoming an expert at colorwork knitting is simple: find easy knitting patterns for your first couple attempts. Learning how to knit with multiple colors can seem intimidating, but the right pattern will make the process less painful.
Intermediate Colorwork Knitting
After you've mastered the basic techniques for stranded color knitting, the real fun can begin. The world of colorwork knitting is filled with gorgeous displays of geometric designs, dazzling patterns, and impressive gradations. Add style and flare to your wardrobe or create gifts your friends and family will cherish for years with these creative colorwork knitting patterns below. Although they may take a little patience, the results are well worth it.
Fair Isle Knitting
Full of tradition and rustic charm, fair Isle knitting offers knitting garments a timeless appearance and festive feel. Fair Isle knitting is known for its colorful geometric repeats, bold color contrasts, and intricate stitch work. Often seen during the holiday season, this classic style of knitting is incorporated into sweaters and afghans for a spirited look.
Which of these colorwork knitting patterns is your favorite?
Your Recently Viewed Projects