What is Hygge? 24 Hygge Knitting Patterns
Hygge style knitting has taken the fiber world by storm and we can't get enough! Check out some of our favorite comfy, cozy knitting patterns.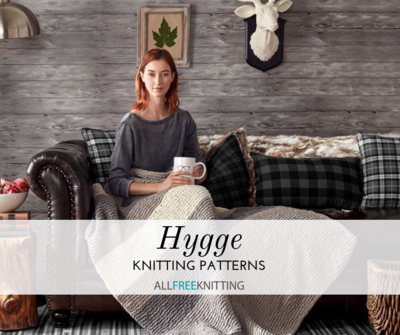 What is hygge? The Danish term, pronounced "hoo-gah," has seemingly taken the Internet world by storm in recent years. Hygge refers to a feeling of happiness, coziness, and comfort and it has inspired people to throw on a bulky sweater, curl up with a good book, and sip their favorite soothing tea or mulled wine as they enjoy the cozy contentment and simple joys of life.

In The Little Book of Hygge: Danish Secrets of Happy Living, author Meik Wiking, the CEO of the Happiness Research Institute in Copenhagen, says hygge is an incredibly important part of being Danish and is considered "a defining feature of our cultural identity and an integral part of the national DNA." Since Denmark is consistently ranked #1 for happiness in the world, it certainly seems like they're on to something when it comes to living the hygge life.

Since hygge is all about embracing the simple, small pleasures that make life great, it should come as no surprise to learn the key elements of hygge include warm blankets, woolly socks and sweaters, hot drinks, and fireplaces.

When you are savoring every morsel of a cozy, comforting meal or relaxing on the couch under your softest blanket, you're experiencing a "hyggelig" moment (a moment that is very hygge).

For us knitters, hygge can be achieved by working on a new pattern as we relax by candlelight or focusing on the gratitude we feel as we create hats or blankets for a special charity donation.

At the core of hygge is the idea of staying inside and hibernating through the cold winter months, so knocking off some items on your knitting to-do list while your relax at home sounds like the perfect match.

Keep in mind the meaning of hygge does not only apply to cold and snowy days. Since hygge is a broad approach to living that embraces positivity and enjoyment of everyday experiences, you can practice it all year long.
Table of Contents
Hygge Knitting Patterns
So now that you can define hygge, you're probably wondering how it relates to your love of yarn. When it comes to hygge style knitting, it's particularly important to focus on patterns with a thick yarn weight such as bulky or super bulky. Cable knit details and oversized designs are also a great way to emphasize the cozy aspect of hygge. Think oversized sweaters, extra thick blankets, fuzzy socks, and super scarves.

It's easy to get that warm and fuzzy feeling when you're finally able to throw on the super soft sweater you've been working on for the past few weeks. Lucky for us, hygge and knitting seem to go hand-in-hand.

If you're looking for the best hygge knitting patterns, take a look at the collection we've curated below.
Hygge Knit Sweaters and Cardigans
Don't lie and say you wouldn't walk around wearing a blanket if you could! We all wish we could just be snuggled up in bed all day, and this will help you feel that way in the office, going grocery shopping... wherever!
This simple cardigan doesn't have any bells as whistles, which already gives it a hygge vibe, but it certainly doesn't hurt that the yarn is ultra-soft. Anyone would adore this cardigan.
Doesn't this sweater just look perfect for winter? Maybe it's not the most flattering thing, but it's certainly trendy, and when the temperatures are reaching the negatives, you don't care about 'flattering' anymore—just 'hygge.'
Peachy Keen Oversize Knitted Sweater
Loose-fitting sweaters are just the greatest. Having nothing to restrict you or hold you back makes this the ideal sweater for any situation! We'd love it for a cozy night in, reading a book.
Blanket lovers, rejoice! Here lies yet another blanket you can conceivably wear in a social setting without getting the side-eye. This one has a clean, minimalist look that would look great on anyone.
Does any day of the week really say 'hygge' the way that Sunday does? If you feel more relaxed just looking at this sweater pattern, we highly recommend knitting one up and living your best hygge life.
Hygge Knit Scarves and Cowls
How do you incorporate hygge into your daily life?
Your Recently Viewed Projects