How to Knit Garter Stitch
If you're new to knitting, this garter stitch video tutorial is the one for you!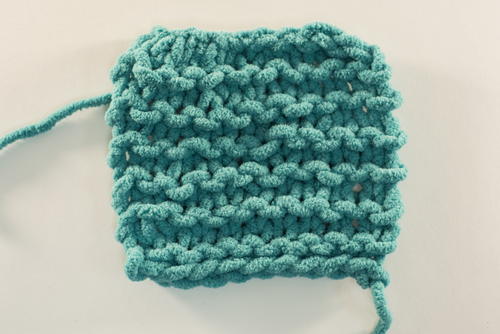 How to Knit Garter Stitch
When first learning to knit, the garter stitch is one of the first stitches you learn, along with stockinette stitch. All you need to know in order to do the garter stitch is how to cast on, how to bind off, and how to do the knit stitch! It's really that easy. Garter stitch is an excellent way for you to learn just how easy it is to become an expert at knitting.

Because of the mechanics of the knit stitch, the purl bump side of the stitch will always be made opposite you and the V side will always be facing you. When you turn your needles, this flips the direction of the stitches every other row, giving you alternating lines of purl bumps and the signature Vs that you see with stockinette.

Garter stitch is great for things like knit scarves and even baby blankets because of its thickness and soft feel. Garter stitch patterns can also include dishcloths or washcloths. Thus, no matter what project you want to create, you can most likely craft it by using some form of the garter stitch. This video will break down how to perfectly knit this stitch and is perfect for if you are a knitting beginner!

Instructions
Start with the stitches on your non-dominant hand needle.

With your dominant hand needle cross the needles forming an X going through the front loop of your work, ending with the non-dominant needle on top and the dominant needle on the bottom.

Wrap the yarn going toward yourself and around, and pull the yarn through.

Sweep the yarn off the end.

Repeat all the way down your needle.

When you finish the row, turn your needle like you are turning the page of a book, so that the stitches are back in your non-dominant hand, and repeat the process.
Your Recently Viewed Projects