22 Pretty and Pink Easy Knitting Projects
These free pink knitting patterns are perfect if you're looking for an easy way to showcase your feminine side. Find your favorite shade and get to work!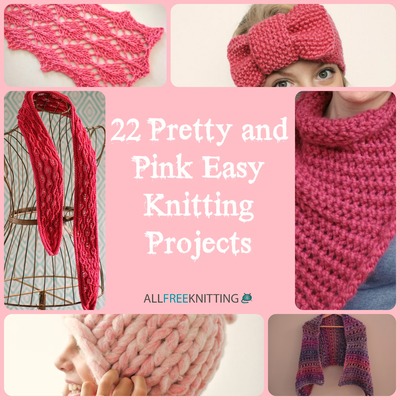 Pink is the quintessential feminine color. Psychologically, pink is tenderness and kindness. With these 22 Pretty and Pink Easy Knitting Projects we've compiled for you, you can surround yourself and others with that tenderness and kindness.

These patterns are just what you need for Valentine's Day, Sweetest Day, the birth of a newborn girl, and more, but these easy knitting projects are beautiful year-round. Whether it be a pink knit hat or a pink knit scarf, these girly patterns are just the projects for all you lovely ladies out there.

The wonderful thing about the color pink is how many beautiful things are connected to it. The setting sun, the heart motif, bubblegum, and so many other fantastic things in the world are the color pink, so why not you? These easy knitting projects will make you look good enough to eat, and will pair with a ton of other lovely colors, such as pale blue or deep purple.

With spring right around the corner, you'll even be able to match the blooming flowers. For easy knitting projects, each listed here is gorgeous enough to be professional, and you're sure to look pretty in pink with any one of them.
Table of Contents
Pink Knit Hat and Headband Patterns
Especially for the chilly winter days, hats and headbands are the perfect easy knitting projects. To add a bit of warmth to your winter wardrobe, why not make them pink? We've gathered here some of the cutest and coziest pink patterns for trudging through the snow, or even just keeping your ears warm in the chilly wind.

Choose whichever suits you best, or knit a hat for your favorite women in your life to remind them that you're thinking about them, and their ice-cold ears. Nothing says "I care about you" more than snuggly headwear. Take a look at these easy knitting projects for hats and headbands and pick your favorite.
Cute Pink Shawls
There are no easy knitting projects out there that make you feel like an angel and a baby wrapped in a blanket at the same time quite like shawls do. These angelic and feminine patterns just scream "grace" and "dignity," but they're also comfy enough to laze about the house in.

From triangle to circle, they come in an array of shapes and vary from light and lacy to heavy and cozy, making them the ultimate easy knitting projects. Teenagers adore them just as much as adults, so check out these pink shawls and make one for that sweet sixteen year-old in your life, or keep them all for yourself!
Quick Knit Scarf and Cowl Projects
Scarves and cowls are classics; you can never go wrong with scarves and cowls. Now, you have an array of beautifully pastel and brilliantly bright pink easy knitting projects for scarves and cowls to choose from. With plenty of time left in the cold, it's not too late to make some ultra-feminine neckwear to bundle up in.

Even when the spring rears its head the cold won't be quite chased away, so keep these easy knitting projects in mind. Beautiful with a plain solid-colored shirt or half-poking out of a winter coat, you'll be reaching for these scarves in your closet long after the last snowfall.
Your Recently Viewed Projects