29 Ear Warmer Headband Knitting Patterns
Check out these free knit ear warmer patterns to learn how to stay warm in style.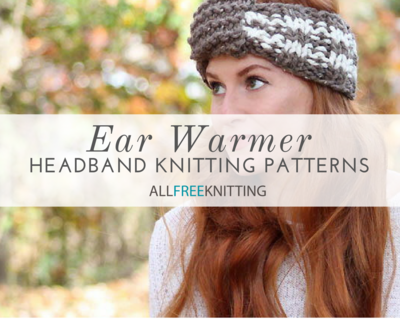 This collection of 27 Ear Warmer Headband Knitting Patterns will have you wishing for a chill in the air! These fun knitted headband patterns are the perfect way to keep your head and ears warm while showing off a bit of your personality through unique designs and embellishments.

The best part is you don't need to be an experienced knitter in order to make your own knit ear warmer, because there are styles to suit any skill level. You can work up one of these in a matter of hours and enjoy your new knitted accessory for winter the very next day. There's truly nothing better than knowing you've create a one-of-a-kind item with your own two hands.

For more great projects like this, subscribe to our free email newsletter!
Table of Contents
Cable Knit Ear Warmers
Looking for a knit ear warmer pattern with a little added warmth? These cable knit designs add a bit of bulk to keep your head and earms warm when there's a chill in the air. Cable knitting might look intimidating at first, but it's really quite easy once you get the hang of it. Before you know it, you'll be able to create beautiful cables with your eyes closed.
Knitted Headband Patterns for Little Ones
Is there anything cuter than a child or baby wearing a sweet knit headband? Whether adorned with bows, flowers, or free of embellishment, these free child and baby knitting patterns certainly do not disappoint. Since it's easy to make a handful of these headbands in a short amount of time, you can make an assortment for your own little lady or as a baby shower gift for an excited mama-to-be.
Trendy Knit Ear Warmer Patterns
One of the best qualities of a knit headband pattern is the ability to elevate your look without much effort. These trendy designs are perfect for a wide range of outfits. From bows to twists to chevron stitch patterns, you can easily find a knit ear warmer pattern to suit your personal style and skill level.
What's your favorite stitch to use when knitting ear warmers?
Your Recently Viewed Projects