10 Free Tank Top Knitting Patterns for Beginners
Any one of these easy knit tank top patterns are a great project for beginners.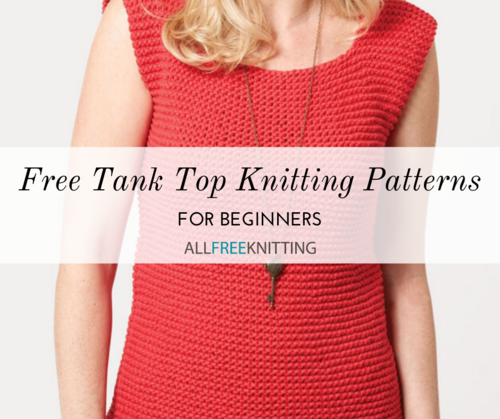 There's a widespread misconception out there that knitting is just for scarves and sweaters. A lot of people think of it as a "cold weather hobby" that you drop at the first day of spring and pick back up again when fall starts. This couldn't be further from the truth, as a wealth of great knitting ideas, from skirts to headbands, are perfect even on the hottest August day. Knit tank tops are one such pattern, and there are a ton of beautiful free tank top knitting patterns for beginners out there that you can knit up as a layering piece for winter or a standalone shirt for summer.

Knitting tops and sweaters can be intimidating for new knitters, but each of these patterns will walk you through how to knit a tank top for beginners, which means you'll be able to understand with minimal experience. Not having to worry about sleeves already makes a project like this easier than your standard sweater! Just scroll through this list and pick your favorite beginner knit tank top pattern to tackle and read through the instructions. You may be surprised at just how doable they seem.

Sign up for our free email newsletter for more amazing patterns!

We'll take a look at all 10 free tank top knitting patterns for beginners in order of simplicity, beginning with the easiest and ending with the most challenging—which most beginner knitters should still be able to finish easily.
Your Recently Viewed Projects