25 Knit Headband Patterns and Other Simple Knit Accessories
From knit jewelry patterns to knit flowers, this collection is full of fun knitting projects!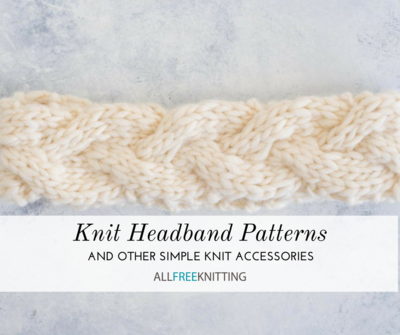 So you enjoy knitting scarves, hats and sweaters in a variety of colors and sizes — but did you know that you can knit your own accessories, too?  From simple knit jewelry patterns to cute-and-chic wristbands and bracelets, it's amazing how many free patterns are available for trendy accessories. 

To help get you started working on patterns that may be outside of your normal knitting schedule, I've pulled together some of my favorite knit accessories from AllFreeKnitting.  In this collection of 25 patterns, you'll discover easy knit headband patterns topped with bows, unique solutions for telling keys apart, electronic cozies, knit flowers, simple knit buttons and more.

These knit accessories make excellent gifts for the ladies in your life. We even have a few patterns that would be excellent last-minute gifts for Father's Day, in addition to the beautiful headbands that your mother is sure to love on Mother's Day. Check them out below in your new go-to guide for knitting accessories!
Table of Contents
Easy Knit Headband Patterns
Whether you're having a bad hair day or are looking for something new to try with your hair, consider knitting yourself a new accessory.  With the help of these knit headband patterns below, you'll discover how easy it is to create something cute and practical for your hair.  Use the stylish Leftovers Bow Headband pattern to rid your stash of leftover yarn scraps and add some "oomph" to your wardrobe.  All of these patterns are so customizable with color and style, so you will find something you love. 

Plus, if you're seeking a pattern that will keep your ears as warm as a knit hat, there are patterns on this list for you! Check out the Goldenrod Cinched Headband and the Cutie Pie Headband. 
Simple Knit Accessories
This selection of unique patterns is especially great for getting through your yarn stash.  If you have trouble remembering which key goes to which door, consider knitting each key its own colorful key cozy using the Creative Key Cozy pattern. 

No matter if you decide to knit yourself a bow to use as a hairclip or if you make your iPod a much-needed new cozy, you'll love knitting up each and every pattern below.
Free Knit Flower Patterns
Flowers are not only fun to make, but they can be used for a variety of things. Add some knitted flowers to your next afghan, sweater or scarf for an additional touch of whimsy. Transform a few knit flowers into a pin which can be worn with a variety of cardigans and blazers during spring and summer. 

Once you start knitting up flowers, you'll love finding out how many ways you can use them! Some people even knit bouquets for their weddings or flowers for their home decor. How would you incorporate knit flowers into your life?
Like these patterns? Take a look at this collection for more great flower ideas -
Free Jewelry Patterns + Belts
Branch out from your traditional knitting routine, and try creating your own knit jewelry.  No matter what your skill level, there's a pattern that will appeal to your personal taste and style. You can never have too many fun jewelry accessories.

For an extra simple project, try making the Easy Two Hour Belt.  Whether you're replacing an old belt or trying out something new, this pattern will help you out!
What is your favorite knit accessory?
Your Recently Viewed Projects