How to Make Yarn Tassels
Learning how to make tassels out of scrap yarn is a breeze with this video tutorial!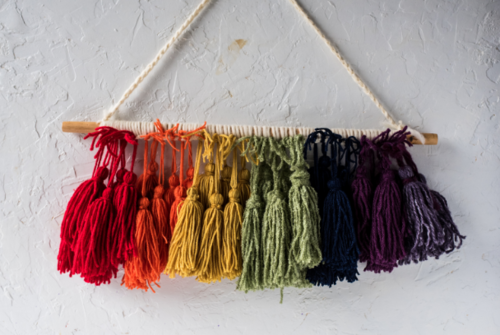 How to Make Yarn Tassels
Check out this comprehensive step-by-step tutorial and video demonstration to learn How to Make Yarn Tassels. Tassels are a quick and easy way to add a touch of fun and whimsy to any knitting pattern.

Tassels look especially great when they're added to the end of a knit scarf or even used to create a banner for a unique home decor item. You can make these playful additions using either a store-bought tassel maker or a small piece of cardboard, so they're the perfect budget-friendly way to take your hand-knits to the next level.

Read below for this easy tassel DIY and don't forget to check out the video!

Check out this scarf pattern, featured in the video above, and put your tassel-making skills to good use - Big Old Bias Knit Scarf
Instructions
Check out the instructions below to learn how to make a tassel using a small piece of cardboard.
Begin by cutting a small slit in one end of your cardboard. 

Grab your yarn(s) and put the tail(s) in the slit you just cut. Then start wrapping your yarn around your cardboard lengthwise. 

When you've wrapped as much yarn around the cardboard as you like, cut your yarn and put the other end of your yarn through the same notch you began your tassel with.

Tie the opposite end of your soon-to-be-tassel together with some scrap yarn.

Cut your yarn at the opposite end of your carboard and carefully slide the tassel off the cardboard.

Use another piece of yarn to wrap and tie around your tassel near the uncut end. Trim any ends of yarn that stick out where they shouldn't, and your tassel is ready!
What's your favorite way to use tassels?
Your Recently Viewed Projects