22 Eco-Friendly Knit Patterns
Reduce, Reuse, and Recycle with these free knitting patterns!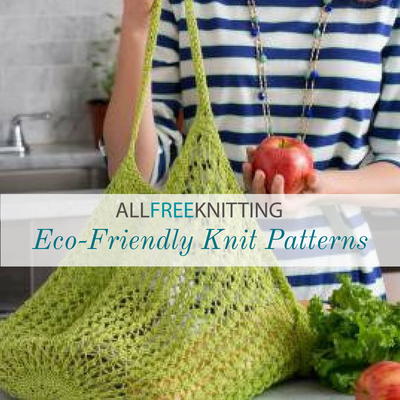 Reduce, Reuse, and Recycle with these free knitting patterns
Have you ever actually looked at your garbage can and realized just how much you throw away every week? The amount of cardboard and plastic and paper that we accumulate just sitting around our homes is astounding. Of course, we do recycle and try and use those refillable water bottles, but that's just not as fun as knitting your way out of the waste!

Forget one-use face wipes and coffee-house cardboard sleeves, with a bit of scrap yarn and some patience you can have knit washcloths and knit mug cozies that will do the job just as well without anything having to go into the garbage!

Instead of tossing out your grocery bags, knit yourself a whole cartful of knit bags! You'll be saving a few plastic bags from the ocean and make those cereal boxes and piles of apples look twice as good.

Reduce your carbon footprint with this list of 22 Eco-Friendly Knit Patterns.

Table of Contents
Knit Home Goods
Drop the cotton pads and the old duster heads. It's time to start making products meant to last! Save your soap with knit soap sweaters and keep your face clean with knit washcloths!
Knit Patterns On the Go
There are a lot of companies out there that favor cheap and disposable items over things that will last a lifetime. Help the environment by helping yourself with these knit reusable bag patterns and more!
Knit Gift Bags
Wrapping paper can make such a big mess on birthdays and holidays, and most of it can't even be reused. Give yourself a reprieve from holiday chores and make a heartfelt gift a little more heartfelt with these knit gift bags. 
What do you do in your house to keep green? 
Your Recently Viewed Projects