38 Fabulous Fall Accessory Knit Patterns to Match Your Sweater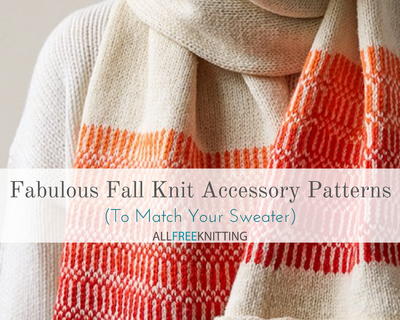 Forget sweaters, try these amazing autumn knit patterns!
Autumn is hands down the best sweater weather and there are tons of lovely cozy cardigan patterns out there to prove it. However, in all the hype over these staples of fall fashion, we tend to forget about all the other knit accessories that not only evoke that same autumnal bliss but make a great addition to any weather-appropriate outfit that's on the market.

There's no shortage of types of these accessories either! Maybe your ears are absolutely freezing and all you need is a solid hat to cover them, and maybe you hate hat hair so you choose some great ear warmers instead. Perhaps you aren't a fan of thick cable socks, but still would like that super cozy look, there're plenty of cute boot cuffs on this list for you. For those of us who always get a little Halloween crazy once the temperature starts dropping, we also have some great spooky knits that you can bust out this time of year.

There's more to fantastic fall fashion than a burgundy-colored, oversized sweater or a chunky knit cardigan. There's a whole variety of knit patterns out there that were made to make you look and feel like the embodiment of a cup of tea by a campfire. Keep warm and cozy with this list of our best fall knit accessories.
 
Table of Contents
Knit Scarf Patterns
Knit scarves are the most iconic knit fall accessory, just after sweaters, and these patterns are sure to turn some heads when you walk into the cool morning air.
Fabulous Knit Hats
Slouchy beanies, ribbed caps and even an acorn hat, get creative with these awesome knit hat patterns. 
Weather Appropriate Knit Headbands
For those days where you want to show off those luscious locks or just throw it all up in a bun, these knit headband patterns are here to protect your easily frozen earlobes. 
Useful Fingerless Gloves Patterns
Sometimes it's not cold enough for full gloves, and sometimes you just really need to use your fingers. That's where these adorable, autumn-colored fingerless knit glove patterns come in!
Stylish Knit Boot Cuffs
Knit boot cuffs are deceivingly practical and obviously adorable. These boot cuff patterns are super quick and easy to finish too, so they make a great weekend project! 
Spooky Scary Knit Halloween Patterns!
It's not a fall accessory list without a few spooky Halloween knit patterns to try out! Wear these while your running errands or taking your kids trick-or-treating! 
What's your go-to knit fall accessory?
Your Recently Viewed Projects