How to Knit a Dog Sweater + 10 More Adorable Animal Patterns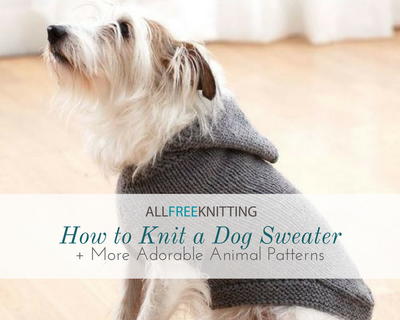 Knitting for people is overrated, try these knit patterns for pets!
Get ready for a cuteness overload! For your convenience, we have compiled a list of twenty of our most adorable animal patterns with our How to Knit a Dog Sweater + 10 More Adorable Patterns guide. Being a pet owner is its own reward, but who doesn't just love dressing their furry pal up in all of the latest trends? Dogs (and cats) in sweaters are an insanely cute phenomenon that is sweeping the nation.

Don't let your furry friend be left out. It's not hard to jump in on the hype if you already know how to knit a dog sweater. With these free knitting patterns, there is sure to be some competition for "Most Fashionable Member" in the household this year. Designed with your pet in mind, these knits are not only soft but also provide both a comfortable and relaxed fit. Pick out the material you know would suit your pet the best and get knitting.

Knitting for pets is always a fun experience and nothing will beat the satisfaction of having the amazing picture proof afterwards. We didn't just stop at cute little patterns for DIY dog clothes, though. Here, we have a list of DIY pet toys, beds, and blankets. We have also included a section filled with only the sassiest little knit patterns designed with your picky feline in mind.

All of these animal patterns are simply must-haves for every pet owner. Break out your needles today, learn how to knit a dog sweater, and make your furry friend the knitted gift that is sure to make them the talk of the block.

Don't have a pet? Not a problem! These easy knit patterns double as the perfect gift for that pet-obsessed friend in your life. They are sure to be grateful when their furry pals strut through the streets with their one-of-a-kind knitted gifts.
 
Table of Contents
DIY Dog Sweater Patterns
If you love dressing up your dog in cute little sweaters, then today is your lucky day. We have compiled our knitted dog sweater patterns into this one convenient location. If you don't know how to knit a dog sweater quite yet, have no fear. We've got you covered. These easy knit sweater patterns are easy to follow along. Soon, you'll be teaching all of your pet owner friends how to knit a dog sweater for their own furry friends.
Knitting for Cats
Dogs aren't the only ones with cool knits. Knitting for cats can be tricky, but it's not impossible. Designed with your feline companion in mind, these cat knitting patterns are sure to be a smash hit. We also have more than just your typical cat sweater pattern. We've also got catnip toys your cat is sure to be raving about.
DIY Pet Toys and Pet Beds
There's no need to break the bank to provide your pet with the essentials. Why not make them yourself. Let your pet take his or her naps in style with these DIY pet beds. They are sure to provide your furry friend with comfort and warmth all through the night. There are also DIY pet toys to keep your pal busy and moving when you cannot.
What's your favorite thing to dress your pet up in?
Your Recently Viewed Projects