8 Designs for Knitting: Free Patterns for Beginners and Easy Knitting Stashbusters
Bonus: Get our newsletter & special offers for free. We will not share or sell your email address. View our Privacy Policy

How to Design Like Sam Barsky (an Interview)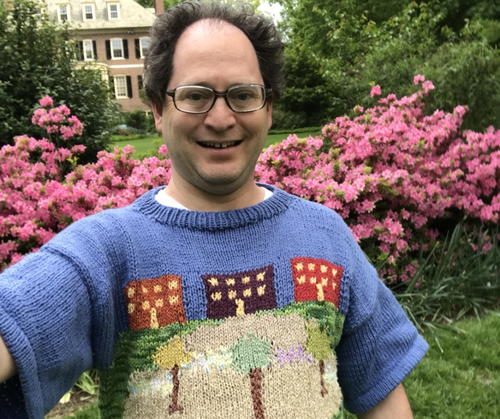 If you're a knitter who's been anywhere on the internet in the last few years, you probably know who Sam Barsky is. While he's been knitting for nearly two decades, in the last few years, his artistic sweaters based on specific locations have made him somewhat of a celebrity knitter!

We had the pleasure of sitting down with Barsky for an interview about his design process. From his creative use of variegated yarns and novelty yarns to the unique way he incorporates scenery into his designs, you can spot a Sam Barsky sweater from about a mile away.

Curious about his creations? Browse the archive of Sam Barksy's artistic sweaters.
Q: Tell me about your design process; where does a sweater start?
A: Basically, I need to have the inspiration in my head -- a specific landmark or a type of scenery or whatever. And then I have to find the yarns that are appropriate for it, so I use yarns that resemble things that are in the real world. An example is that variegated blue looks like water.
 
Q: Do you buy the yarn based on the idea for the sweater?
A: Yes. And sometimes I'll see a yarn in the store, and I think, "Wow, that would make a great whatever." Sometimes I see yarns that will inspire an entire sweater. But generally, I have an idea in my mind and want to make a sweater on [that] theme, and then I look for yarns I think would be best for it.

The sweater pictured below is a great example of Barsky's creative use of yarns -- especially novelty yarns. This sweater uses eyelash yarn to mimic the sweetgrass at Marshy Point Nature Center in Baltimore, Maryland.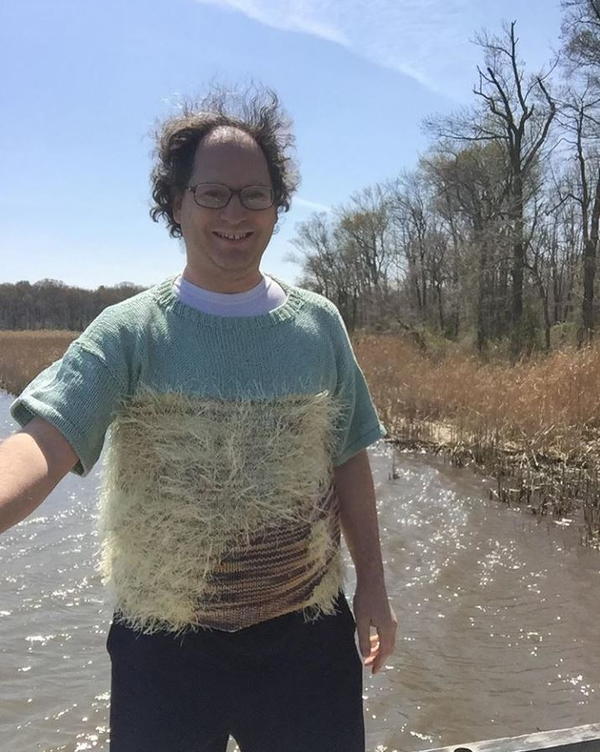 Q: What does your planning process look like? Do you plan your sweaters out on graph paper?
A: Not at all. I just freehand it; that's how I do them all. Try to imagine you have a piece of paper, and you want to draw a picture on it of something, and you think, "I want this here and this there." I can be a little flexible there, on that paper. [Then I start to] think of it in the order of the way the stitches are knitted.
Q: What advice do you have for knitters who want to try designing?
A: Just stick with what you're doing. Don't feel rushed to do anything, unless you have deadlines to meet, of course. Just be creative;... you have to be quite creative to do this. You don't have to do every single thing there is in this world.
 
Q: What mistakes did you make when you first started designing?
A: First of all, I continue to make mistakes to this day, and sometimes I look back and notice a mistake. Sometimes I'll just live with it and think, "that's how it's supposed to be."

And secondly, I have learned new things as I've gone on [knitting], and new ways of doing things. I keep thinking, "oh, if only I had known that for one of my old sweaters." I look at some of my older sweaters and think of better ways I could have done them. 
 
Q: Do you ever design things beyond sweaters?
A: The only thing I do regularly are baby hats that I donate to hospitals. Sweaters are the main thing I do. I [also] did a number of dresses, but the dresses I did many years ago. My wife and I were still in the first few years of our marriage back then, and I wanted to do something nice for her. But it's not what she enjoys wearing really; it's not her sense of fashion. I do make things for her as gifts.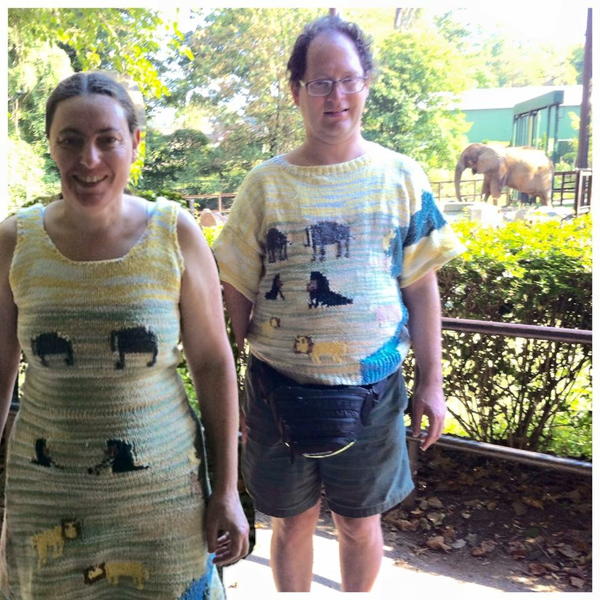 Q: Do you ever knit patterns from other designers, or do you mostly knit your own designs?
A: I mostly just knit my own, but anything that [other knitters] do, I'll see it as inspiration. And I'll give credit to whoever it is who inspired me. And not just a knitter but any kind of artists, and I'll talk about it constantly.
 
Q: Do you have any particular designers you like?
A: I appreciate what every knitter does, whether you're a beginner or someone advanced. I've had people call me the greatest knitter in the world, and I don't like being called that because I think every knitter is talented at what they do. I see these people who are so great! These people are geniuses at what they do, and I don't even know how to do what they do, so I can't possibly see myself as the greatest knitter in the world. There's room for everyone in knitting. I'm happy not to be the only one.
Q: What do you do with the sweaters when you're done with them? Do you have a museum of Sam Barsky original sweaters?
A: Right now, I keep them myself. I lend them out at times to be on temporary displays. There's only one I've given away permanently to a library, but I don't know what they did with it. Besides that, I have all of my sweaters, but at the moment I've been selling prints of them on different types of merchandise. I eventually want to have them as sweaters other people can buy.
 
Q: What sweaters are next? Do you have any big trips coming up that you can announce?
A: I'm finishing up a [stadium sweater] purposefully on Super Bowl Sunday. But after that, my next trip that I know about for sure is going to be in the Spring to Israel.

I've been to Israel many times; I've already got six sweaters of landmarks in Israel already. I'm thinking maybe the Tel Aviv skyline, which I've never done before, or the Jerusalem forest; the last time we were there, I thought that might make a good sweater.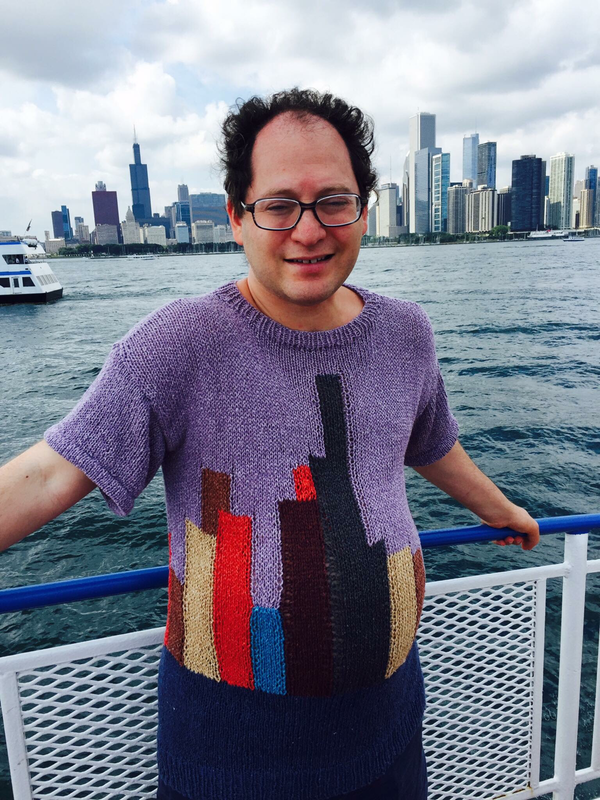 Free projects, giveaways, exclusive partner offers, and more straight to your inbox!
Your Recently Viewed Projects
Images from other crafters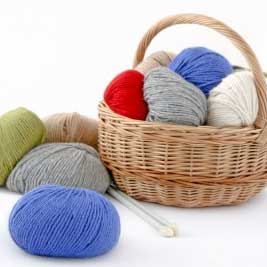 Something worth saving?
SAVE all your favorite patterns
ADD personal notes
QUICKLY reference your patterns