How to Knit Faster: 7 Tips for Speed Knitting
Learn how to improve your knitting speed just in time to finish those Christmas knits!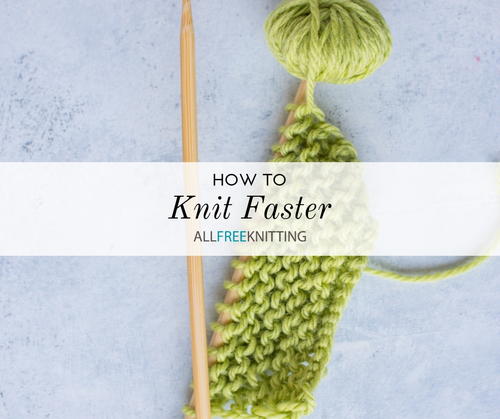 Here at AllFreeKnitting, we believe that knitting should be a form of relaxation. Speed isn't everything! In fact, we all know that, when we start going too fast, we start to make mistakes in our work.

That said, we all know that panicked rush to finish a project in time for Christmas or someone's birthday. While we can't always control things like the amount of time we have to do our knitting or the weight of yarn required for a project, what you can do is try some techniques for speeding up your individual stitches.

With these tips and tricks below, you'll be knitting at the speed of light! Give some of them a try and let us know in the comments which tips worked the best for you.
1. Try Continental Style
There are five basic styles of knitting, and they all have their pros and cons. When learning to knit a little faster, however, we recommend giving continental knitting a try. These days, most knitters learn to knit English style, which is easy for folks who are new to fiber arts because you really only have to focus on moving your dominant hand. In continental knitting, the yarn is held in your non-dominant hand, which means your tension isn't being controlled by the same hand that's moving the needles. This typically leads to quicker knitting!

If you just can't get the hang of holding your yarn in your non-dominant hand, you could also try lever knitting (also called Irish cottage or flicking). This is a happy medium between English and continental; the yarn is still held in the dominant hand, but the tension and motion are all in the fingers instead of the wrists. This creates a sort of lever motion that produces super speedy stitching!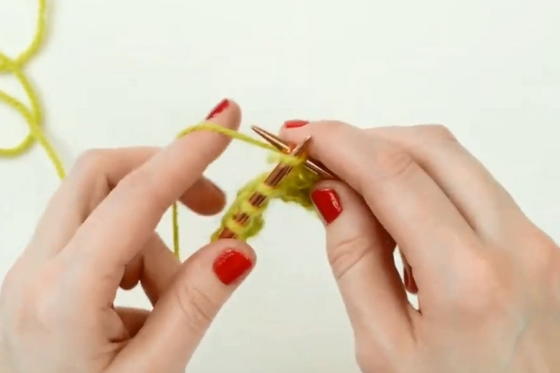 2. Try a New Way of Carrying or "Tensioning" Your Yarn
Tension can affect everything in knitting, from gauge to speed to how flat your stitches lie. And the way you carry your yarn is one of the biggest factors in tension. There's no hard-and-fast rule for how to carry your yarn around your fingers so that you'll knit faster. Some folks like to hold their yarn a little looser, like Heidi does in the video above; whereas some (like one of AllFreeKnitting's editors) like to hold the yarn a little tighter for more even gauge.

Try different styles of tensioning your yarn and see what works best for you!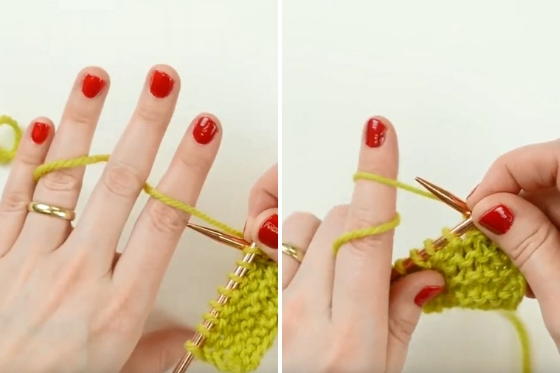 3. Try Combination Knitting
We admit it -- this tip is a little extreme, but it just might work for some of you. Combination knitting is a clever mixture of the Eastern and Western methods of knitting; basically knit stitches are worked with the Western method, and purl stitches are worked with the Eastern method. There are many other things that make this method unique, but the most prominent one is that knit stitches are worked through the back loop and purl stitches are worked through the front loop; as such, the leading and lagging legs are not uniformly placed on the needles, like in Eastern and Western knitting. Here's a little breakdown of this method:


Western
Eastern
Combination
Knit Stitches
Leading leg in front
Leading leg in back
Leading leg in front
Purl Stitches
Leading leg in front
Leading leg in back
Leading leg in back
Yarn Wrap
Counter-clockwise
(for right-handed)
Clockwise
(for right-handed)
Counter-clockwise for knit (right-handed)
Clockwise for purl (right-handed)
Stitches
Worked through front loop
Worked through back loop
Worked through back loop for knits
Worked through front loop for purls
Twisted Stitches
Worked through back loop
Worked through front loop
Worked through front loop for knits
Worked through back loop for purls
The main reason that combination knitting helps with speed is that you don't have to change the way your hands, yarn, or needles are placed in order to switch from knitting to purling. This is a great way to knit your ribbing like a pro!
4. Find Good Practice Patterns
When it comes down to it, practice is really the best way to improve your personal speed in knitting. That's why we recommend finding a few "practice" patterns that are super repetitive and can help you refine your personal knitting techniques. Things like a stockinette hat that's knit in the round are great because it's really just doing the knit stitch until your hat is the desired length.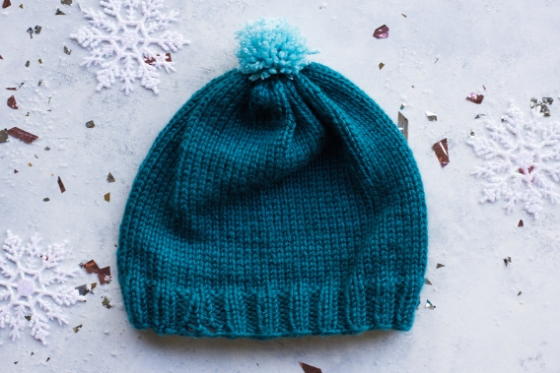 5. Keep Your Movement In Your Fingers
Whichever style ends up working the best for you, one of the elements of knitting faster that is true for everyone is keeping the majority of the moment in your fingers instead of in your wrists and hands. Many beginners start out their first stitches with exaggerated hand movements in order to get the motion into their muscle memory. Over time, though, this becomes unnecessary, and you learn that you can actually do all of the moment required for your stitches in your fingers and leave the rest of your hand free to operate the needles.

This definitely takes some time to get the hang of, but it's the core of what makes some knitters faster than others.
6. Try Knitting Closer to the Tip of the Needle
The closer your yarn and stitches are to the tips of your needles, the less movement in general it takes to complete a stitch. This means you'll be able to seamlessly transition from one stitch to the next without adjusting your stitches and yarn as often. Keep in mind, though, that this will likely change your gauge, so be sure to swatch before trying this.
7. Practice, Practice, Practice
This is probably our most frustrating tip for beginners, but knitting faster is just something that will come with time and practice. Even the most basic stitching requires a tremendous amount of coordination, and once you've done a few garments, you'll have a knitting style that's unique to you and your hands.
Do you have any tips for knitting faster?
Let us know in the comments!
 
Your Recently Viewed Projects