How Many Stitches to Cast On for an Infinity Scarf
Part of learning how to knit an infintiy scarf is to determine how many stitches to cast on.
Updated February 25, 2020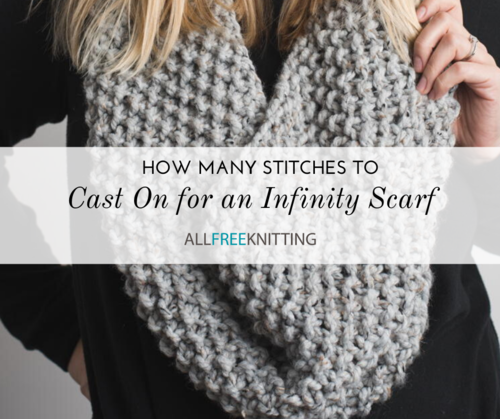 We all want to be that kind of knitter who can just pick up her needles and create something amazing without really having to think about it, but that's just not how knitting works. Knitting involves math, unless you're experienced enough to be able to just pull approximately the correct numbers off of the top of your head. Things get even more complicated when you factor different yarn weight categories into the mix.

How are you supposed to know how many stitches to cast on for an infinity scarf? The long answer is that you need to take the stitches per inch (or gauge) of your chosen yarn and multiply it by the circumference in inches that you want your infinity scarf to be, but the short answer is that there's a general range you'll be looking at, and we've put together a handy chart for you below. The width is completely up to you once you've cast on; you can knit many rows for a stout infinity scarf, or only knit a handful for a skinny scarf.

Note that this chart is best if you're using long circular needles and working in the round either top-down or bottom-up; if you plan to knit up a long rectangle (like a regular scarf) and seam it together at the end, your job just got way easier. All you need to do is determine the width that you'd like your scarf to be, and knit up as many inches as you'd like for the circumference of your infinity scarf before seaming it together. For this method, we recommend our chart on How Many Stitches to Cast On for a Scarf.
But First: Resources for Knitting an Infinity Scarf
If you're knitting your first ever infinity scarf in the round today and you don't really know where to start, these resources will act as your handy guides. Be sure to read them thoroughly and understand all the techniques before casting on.
More Knitting Resources
How Many Stitches Should I Cast On?
There are a few different factors that come into play when figuring out the exact number to cast on for your infinity scarf. Since the size categories below have a range of circumferences in inches (and centimeters), and yarn weights have a range of stitches per inch depending on the brand and line, you'll find yourself with a range of possible cast on numbers rather than one single answer.
Yarn Weight
If nothing else, you should at least know the weight of your yarn, because it determines not only the approximate needle size that you should be using, but also the gauge (explained below). It's possible for two different yarn lines in the same weight category (and even the same brand!) to have slightly different gauges, so check out the yarn label if you still happen to have that sitting around. Check out our yarn weights guide for more information.
 
Needle Size
Your needle size will affect your gauge in the same way that the yarn weight and your tightness of knitting will affect it; larger needles will result in fewer stitches per inch, and smaller needles will result in more. Once again, your yarn label should tell you what needle size to use, but if it doesn't or you've lost your yarn label, our guide to knitting needle sizes should help.
Since you're working in the round, you'll additionally have to keep in mind the cable length of your circular needle. Roughly, we recommend having a circular needle length at least slightly shorter than the circumference of your scarf, so you're not struggling to stretch the stitches over a long cable. For instance, if you're looking to knit a short infinity scarf (40"-45"), we'd recommend at least a 36" cable. For larger sizes, you might be better off using an interchangeable knitting needle set, where you can mix and match cable sizes to make longer needles.
 
Gauge
All of these factors boil down to your overall gauge, or the number of stitches per inch in your knitting. While you could determine roughly what your gauge will be based on what your yarn label tells you (provided you're using the recommended needle size), the tightness of your knitting also affects this number. For this reason, we always recommend knitting up a gauge swatch to determine your gauge exactly. Check out this guide to calculating knitting gauge for more information.
 
Pattern Repeats
If you have a specific kind of stitch in mind, the number of stitches in that stitch pattern will also affect your cast on method. For example, if the stitch pattern you would like to use is 2x2 rib, which has a 4-stitch repeat, you're going to want to make sure that your cast-on number is divisible by 4. If you happened to find your beloved stitch through a website or a stitch dictionary, most of them should tell you how many stitches go into that stitch pattern.

Things get even trickier when you combine two or more stitch types—maybe you want a border of one stitch and a center of another, or maybe you want to swap stitch patterns partway through. In either case, make sure that the cast on number is divisible by both the number of stitches in pattern A and pattern B, unless you want to increase or decrease partway through your infinity scarf.

Math, am I right? This is where having a cast on range rather than a single number comes in handy.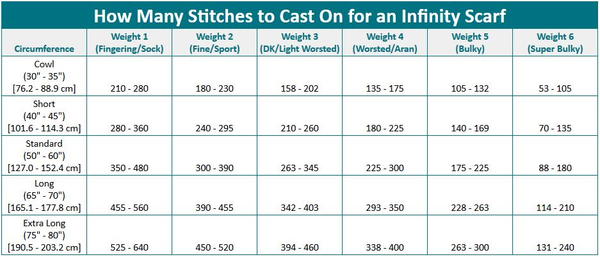 Free projects, giveaways, exclusive partner offers, and more straight to your inbox!
Tags / Related Topics
Your Recently Viewed Projects
Images from other crafters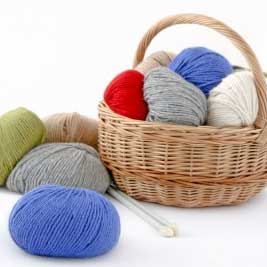 Something worth saving?
SAVE all your favorite patterns
ADD personal notes
QUICKLY reference your patterns