How Much Yarn Do I Need to Arm Knit a Blanket?
For an arm knitted blanket, how much yarn you need ultimately depends on the size and yarn weight, but we can help you ballpark it.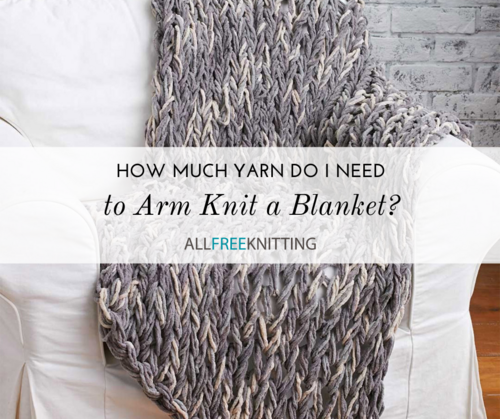 Congratulations! You've decided to learn how to arm knit a blanket. Maybe you're a seasoned knitter who's just looking for something new, fast, and fun to learn or share with those around you, or maybe you're just dipping your toes into the fiber-filled world of knitting with something that seems easier. If you're the latter, your instincts are correct; arm knitting is basically just a bigger version of knitting on needles, and the tactile experience of holding the stitches yourself and acting the way the needles would on a standard knit project can help you better understand the way that needle knitting works, should you ever decide to try it.

Sign up for our free email newsletter for more amazing knitting patterns, tips, and tricks!

As fun as it is to arm knit, figuring out how many yards of yarn to arm knit a blanket can be a bit challenging. You're not going to want to venture outside of the world of super bulky or jumbo yarn when you're planning out your project, because otherwise, you're going to end up with something that resembles a giant spider web, because your arms were just too big for the thickness of yarn you chose (that is gauge in a nutshell; check out our page explaining it)! Once you have your perfect yarn picked out, in order to decide how many skeins to buy, you need to decide on your blanket size.

How much yarn for arm knitting a blanket is decided largely on the size of your blanket. A lap blanket, used for warming as you sit at the couch or at your desk, won't take nearly as much yarn as, say, a queen-sized afghan. The distinction is important; super bulky and jumbo yarn is often much more expensive for the yardage than their thinner counterparts, which makes sense when you consider how much more material goes into each yard of these monstrous yarns. Just follow the chart below to see how much yarn for arm knitting a blanket.
Why Are the Yardage Ranges So Wide?
While the range for how much super bulky yarn you need to arm knit a blanket isn't too vast, the same can't be said for jumbo yarn. That's because jumbo yarn is relatively unregulated when it comes to yarn sizes. Essentially, anything bigger than super bulky yarn is considered jumbo yarn--that means you could be looking at yarn that's about the width of a thick rope, or yarn that's the width of your entire body. Yeah, it varies that much.

Of course, you'll need more yarn that's a foot wide to knit one yard than you will yarn that's a few inches wide. That's why we always recommend picking a pattern that tells you exactly what yarn you need and how much before starting your arm knitting journey.
I Don't Think I Have Enough Yarn...
That's okay! You can always just start arm knitting your blanket and work until you have just enough left to bind off. There's no rule stating that you need to knit your blanket a certain size (heck, there are no real rules in knitting; do whatever makes you happy)! That said, if you had your heart set on a certain sized blanket, take a look at the sleeve of the yarn you picked and take note of the dye lot. When you revisit the yarn store to pick up some more yarn, look for other skeins with the same dye lot before purchasing more.

If you purchased the yarn long ago and you think it is no longer widely available or potentially discontinued, the internet is your best friend. Places like the AllFreeKnitting Facebook community can help you track down a skein. Additionally, people are known to place their skeins of yarn for sale on their Ravelry stashes. Just search for the yarn in the colorway you're looking for and maybe you'll get lucky! Don't be picky about dye lot in this case, however, as the odds of finding the right lot for a discontinued yarn are minimal, at best.
I Don't Even Have a Pattern...
That's fine! If you don't know where to begin when arm knitting a blanket, we have plenty of great pattern options. Pick your favorite, and take all of the guesswork out of how many yards of yarn to arm knit a blanket... because these patterns will tell you exactly how many skeins of exactly the right yarn that you'll need!
One Hour Arm Knit Blanket
Chunky Arm Knit Ribbed Blanket
Eggnog Arm Knit Blanket
Just Like Magic Arm Knit Blanket
Chunky Arm Knit Blanket
Oversized Arm Knit Blanket
DIY Arm Knitting a Blanket
Free projects, giveaways, exclusive partner offers, and more straight to your inbox!
Tags / Related Topics
Your Recently Viewed Projects
Images from other crafters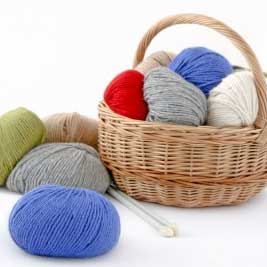 Something worth saving?
SAVE all your favorite patterns
ADD personal notes
QUICKLY reference your patterns