20 Rainbow Knitting Patterns
These free knitting patterns for beginners are a great way to instantly bring some color into your life. Check out our favorite rainbow knits right here!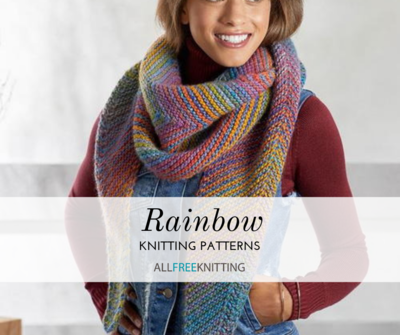 Picking what color of yarn to use can sometimes be one of the hardest decisions a knitter can make. If you can't settle on just one color, why not use all the hues of a rainbow? These rainbow knitting patterns look fantastic and are a fun way to get knitting.  There's no need to limit yourself to one color when you can create a lively rainbow creation instead. These patterns are sure to add a hint of playfulness to your home or wardrobe, making them perfect for children's rooms or as gifts for the young-at-heart.

From afghan knitting patterns to knit scarf patterns, these rainbow knits will inspire and enchant you. Some use variegated yarn of every color of the rainbow, while others are a little more complicated and involve color changing through the spectrum, so you can be sure to find the perfect pattern for your skill level in this list.
Table of Contents
Rainbow Knit Afghan Patterns
Afghans are undoubtedly useful knitting projects.  They double as home décor and blankets, allowing you to artfully drape them over sleeping children or the back of couches.  These knit afghan patterns will be a wonderful addition to any room, but will look particularly charming when placed in a child's room.  The bright colors in these rainbow afghan patterns will bring a smile to anyone's face.  Though afghans are big projects, they have an equally big payoff.  There's nothing quite like the feeling of wrapping yourself in a blanket that you've made with your own two hands.
Knitting Around the Home
There's no need to limit the color in your house.  Spread the love around with some of these rainbow home décor ideas.  Use up leftover yarn to create a multi-colored pillow or a stunning tote bag.  These easy knitting patterns are a marvelous way to brighten up your home.  These rainbow knits are a great way to use up left over yarn, taking spring cleaning to the next level.  You're sure to get tons of compliments for your bright and fashionable rainbow knits that you'll want to make tons of these stunning projects.
Rainbow Knit Accessories
Why not let the color spread to your wardrobe?  These colorful knitted accessories will make cute additions to any outfit.  The knitted scarf patterns are especially handy for keeping away the chill and adding a little color to your outdoor outfits.  Celebrate your memories of the spring and summer even on the darkest of winter days with a cute rainbow knitted scarf or pair of mitts.  You'll only need to take one look at these cheerful patterns to dispel a bad day.  These easy knit patterns are a wonderful way to use up your stash and make wonderful gifts.  Whether you're hoping to keep yourself or a loved one warm, these rainbow knits will be a favorite with everyone.
Your Recently Viewed Projects