Entrelac Knitting 101 + 9 Entrelac Patterns
Spice up your knitting life by learning and making entrelac patterns!
By:
Christy Thomas, Editor, AllFreeKnitting.com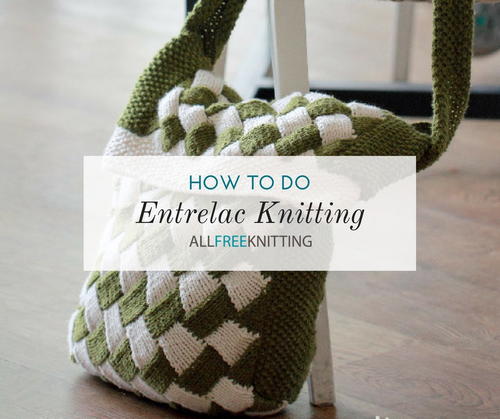 If you've been around the knitting world for a while, you may have heard of the entrelac knitting method, but maybe you never actually discovered what it is or why you would use it.  

Entrelac is a commonly underrated form of knitting, since many people do not know about or are not willing to spend time learning it. But it is a really great method to know. You can use it on patterns knit flat and patterns knit in the round. You can customize your colors to be as simple or as crazy as you want. You can make all sorts of items, from clothing to accessories to large, cuddly afghans. 

Now's your chance to learn all about entrelac and get hooked on it for life! In Entrelac Knitting: Learn How to Knit Entrelac Today! all your questions about this special technique will be answered. We will also list the skills you need before you start and some important entrelac knitting tips.

Plus, don't miss out on the great patterns at the end to jumpstart your entrelac journey!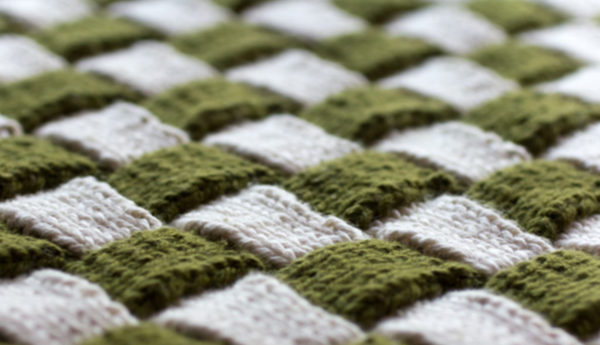 What is Entrelac Knitting?
Entrelac knitting is a method of knitting that makes a textured diamond design that sort of resembles plaid. This method looks like strips of knit fabric that are woven together, but it is really one continuous piece of knitting! 

Entrelac uses rows of alternating rectangles that build on top of one another to achieve its unique look. To begin an entrelac piece, you will first knit a row of foundation triangles to leave a flat edge on your work. Then, you begin picking up stitches along the edges of these triangles to form a row of rectangles, similarly to the way you would join mitered squares in modular knitting but on a smaller scale.

Unlike in traditional knitting where you work the stitches all the way across a row before turning the needles and starting the next row, entrelac knitting makes each rectangle in its entirety before moving on to the next one. As you knit these rectangles that form the pattern, you will pick up the surrounding stitches to create a seamless join.

Entrelac knitting combines a wide array of knitting skills, knitting stitches together and picking up stitches, so this technique is one to try after you've been knitting for a while. But once you get the hang of it, you'll see that the gorgeous patterns that entrelac creates are well worth the effort. This method may also be confusing because it involves turning your work in the middle of rows and increasing and decreasing stitches. However, once you get to know this method, you'll find that it is reasonably simple to execute. Some people even prefer it to more traditional forms of knitting. Maybe you will, too!
Basic Skills You Need For Entrelac
As mentioned earlier, entrelac knitting requires you to draw on other knitting skills that you may already have. It is best to learn these skills before you are in the midst of an entrelac pattern.

Before you can learn how to knit entrelac, you need to know the following:
How to Knit the Entrelac Stitch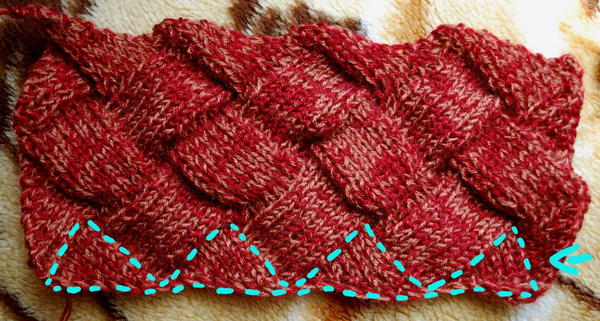 Entrelac Knitting Tips
Don't be intimidated by the new technique. Many people have never tried entrelac because the instructions seem long and they think they'll never understand. The instructions may seem complicated, but once you understand what each of the steps is doing, it will all come together. Just as it took some time to get in the groove of traditional knitting, entrelac will take some time and practice.
Always finish a row before putting it down. With the turns and increases and decreases in this method, it is especially hard to know your place as you go along. You probably could figure it out if you had to, but it would be a lot easier to finish rows before putting it down. If you are interrupted in the middle, be sure to mark clearly where you are on your pattern.
Take breaks often. At the end of every row look back at your work to make sure nothing looks out of place or funky. Craftworld.us says that "it's almost inevitable that at some point you will lose your way," so it is important to frequently check your work. Learn how to fix knitting mistakes if there is a problem.
"Take a leap of faith," says Laurie from crazyauntpurl.com. Trust your pattern. The first couple rows might look kind of odd, but if you keep pressing through, you will be very pleased with your results!
Entrelac Knitting Patterns
There are many different ways to create the entrelac look. Each pattern uses a different combination of increases, decreases, and project turning. In cable knitting, the patterns may differ widely depending on the width and overlap of each cable. Entrelac is the same. That means the best way to learn how to knit entrelac is to jump right into a pattern.

Look through the patterns below, and if one calls your name, start working it up today. Just be sure to remember our entrelac knitting tips, and keep going, no matter what!
1. Entrelac Baby Blanket
2. Entrelac Buttonhole Shawl
3. Entrelac Rainbow Mitts
4. Entrelac Knitted Laptop Case
5. Autumn Garter Stitch Entrelac Scarf
6. Entrelac Cowl
7. Lady's Entrelac Hat
8. Easy Entrelac Scarf Tutorial
9. Entrelac Messenger Bag
Want to learn another great knitting method? Cables are the way to go!
What entrelac pattern will you try?
Free projects, giveaways, exclusive partner offers, and more straight to your inbox!
Tags / Related Topics
Your Recently Viewed Projects
Images from other crafters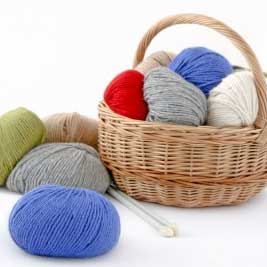 Something worth saving?
SAVE all your favorite patterns
ADD personal notes
QUICKLY reference your patterns