6 Bind Off Methods
Do you want a pretty bind off? A functional bind off? Here are some options.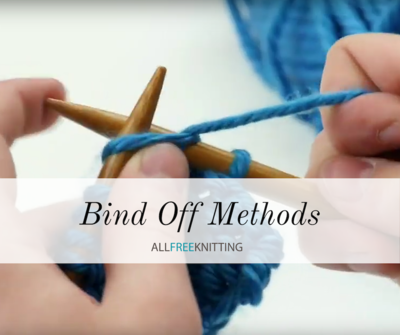 We all know of the standard knit-2-pass-one-over bind off, but if you've ever found that the hem of your sweater is just a little too stiff, or maybe the end of your cowl isn't stiff enough, you might not be using the right bind off method. That's right: there are a bunch of bind off knitting methods, just like there is a variety of methods to use when casting on, and the one you learned when you first learned how to knit might not be the best strategy for your current knitting project. Luckily for us, there are a ton of tutorials out there to teach you the different ways you can bind off your knitting.

Which bind off method you choose to use for your knitting typically depends upon how stretchy you need it to be, but there are other factors to keep in mind such as appearance and function. Are you more focused on a clean or decorative appearance to your bind off, or is your concern the bind off edge matching the cast on edge? If you're following a specific pattern, it may tell you exactly what kind of bind off to use, or it might leave it up to you. In the case of the latter, we'll explore some of the options you have and the best time to use them.
Table of Contents
Bind Off Methods for Knitting
What's your go-to bind off method?
Your Recently Viewed Projects