The Best 100 Free Knitting Designs Ever: Free Afghan Patterns, Knit Scarf Patterns and More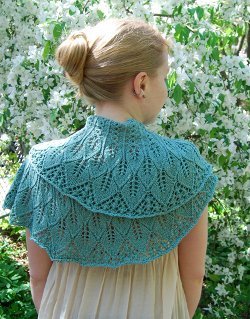 Because AllFreeKnitting is filled with so many free knitting patterns, it can be difficult to know which projects to start working on first. Not to worry, though, because we've created this ultimate guide just for you. Featured in this extensive collection you'll find 100 of our top free knitting designs ever. From winter comforts like slippers and shawls, to essential spring shawls and summer bags, you'll be able to enjoy these free knitting designs throughout every season. Whether you're just beginning knitting or you're more experienced, you'll find your next project somewhere here.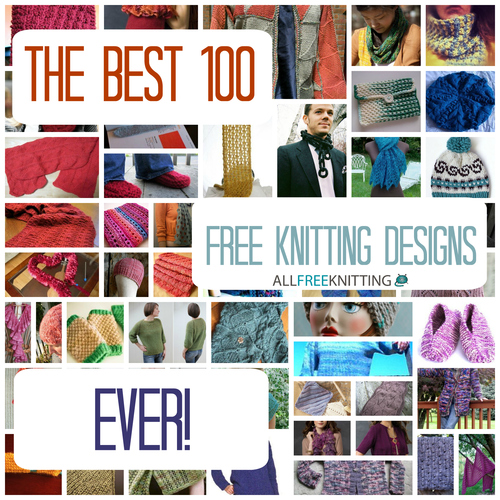 The Best 100 Free Knitting Designs Ever
Table of Contents
Knit Bags: Tote Bag Patterns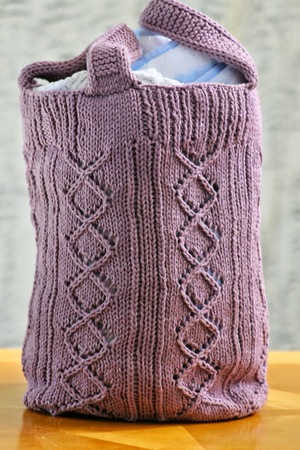 Enjoy packing away everyday essentials in one of these handmade bags. Fashionable, practical and fun to make, these must-have totes and purses will carry you through all four seasons. These free knitting patterns are just what you need to carry your knitting supplies with you anywhere you go. Alternatively, try bringing them to the beach, filled with sunblock, sunglasses, and even a book or two. These versatile free knitting patterns are perfect for the girls on-the-go.

Free Afghan Patterns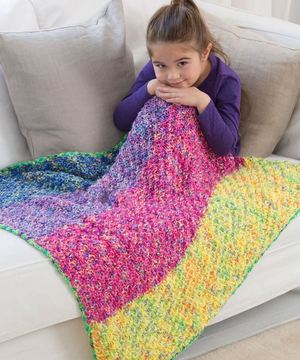 Brighten up any room with one of these colorful afghan patterns. Ideal for a variety of occasions and locations — nurseries, living rooms, bedrooms — you'll love finding excuses to start making another blanket! Our free knitting patterns for afghans will have you wondering why you didn't start knitting them sooner. They'll look just as lovely out in the living room as they do lining the bottom of a baby's crib, making them some of the most versatile decorative knitting patterns. Free and mindless, cast all your worries away while knitting these afghans in front of a television, or while listening to the radio.
Cowl Knitting Pattern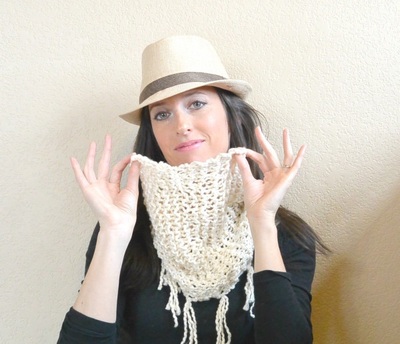 Seamless, easy to make, great for both men and women — what's not to love about knit cowls? Adorn your neck with any of these quality patterns and discover that being warm doesn't mean you have to sacrifice your sense of style. Infinity scarves are all the rage nowadays, and these free knitting patterns will give you one of your own for much cheaper than it would be to buy at a store. Stylish ladies out there, you need not look for another reason to start knitting. Patterns, free and incredibly simple, like these are just what you need for beginning knitting. Additionally, if you have a super fashion-forward teenage daughter or granddaughter, teach her how to knit with one of these cowl patterns.
Knit Shawl Patterns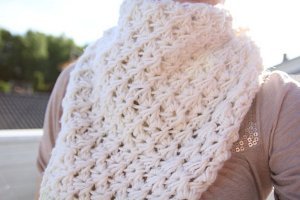 You won't know the full definition of luxury until you wrap yourself in one of these shawl patterns. Comfortable and feminine, you can't go wrong with any of the projects in this collection. Just as lovely in the church as they are on the street, these free knitting patterns are often those that beginners take on when they feel more confident in their skills. These gorgeous free knitting patterns for shawl will make you feel like the classiest lady in town, but don't be surprised if nobody believes that you knit it yourself.
Knit Hat Patterns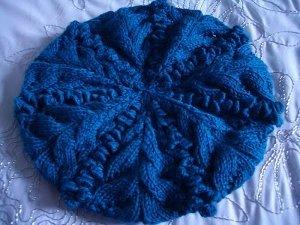 Adults and kids alike all need hats to wear, whether it's to keep warm during the winter or to add a pop of color to an outfit during the spring. Our free knitting patterns for hats will help keep you cozy all year long; all you have to do is knit them. Whether you prefer knitting in the round or working your hats flat, we have an option for you. We've got some seriously embellished free knitting patterns, and more simple hats for you wallflowers out there. Pick whatever suits you best and never worry about cold ears again.

Knit Slipper Patterns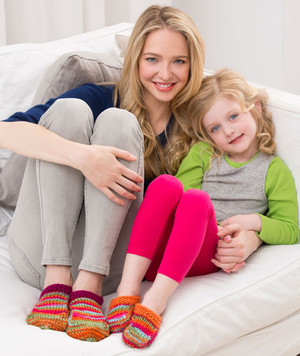 Don't lie; you love slippers. Slippers are one of the most rewarding patterns to knit. Not only do they work up quickly, but they make great gifts for both men and women. Go on and knit yourself a pair to slip on during cold winter evenings. Trust us; your feet will thank you. These free knitting patterns come in all varieties so you can have a ton of different options to give away as gifts or store away in your closet. Even those just beginning knitting can manage these patterns with just a little bit of time and practice.
Knit Sweater Patterns + Knit Top Patterns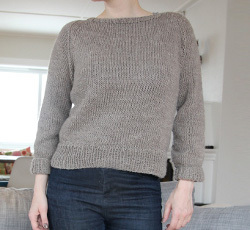 A staple in any woman's closet, cardigans and sweaters are a definite must for fall weather. So pull out your button stash and get ready to make cozy cardigans and more for the upcoming chilly season. Even in the spring, these free knitting patterns will help protect you from that darn ten-degree drop between the day and the night. A prepared knitter always has a few free sweater patterns set to the side just in case bad weather is coming her way, so don't be unprepared and print a few of these free knitting patterns to stow away for a chilly winter.

Knit Scarf Patterns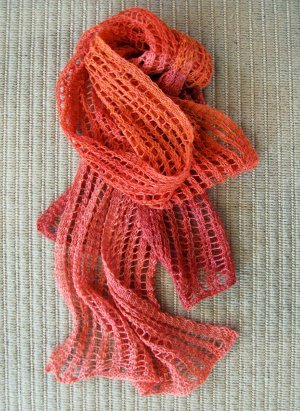 No matter what your skill level, there's a scarf pattern that's just right for you and your knitting needles. Whip up a simple scarf that features just one stitch or work on more complicated designs that incorporate lace and bobbles. Whatever you choose, you're bound to find satisfaction from finishing a handmade accessory using your favorite yarn. These free knitting patterns also can give you wonderful gift ideas for Mother's Day or your daughter's birthday. Since they're so quick to work up, they're the perfect last-minute gifts.
Knit Headband Patterns + Handwarmers
It's time to break out the leftover colorful pieces of yarn from your stash, because knit headbands and handwarmers are ideal stashbusters. In this group of patterns, we've compiled some of the simplest designs that are fun to work on and easy to make. These stashbuster free knitting patterns will help clear out your storage and give you some absolutely adorable accessories, to boot. Share the love and give some of these free knitting patterns to the ladies you know who hoard yarn like the world is ending!
Simple Knitting Patterns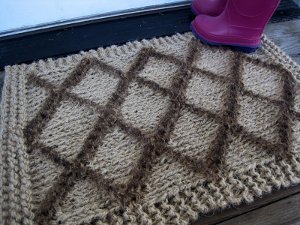 Last but not least, this collection of quirky patterns includes unusual ways to use up your yarn (or garden twine!). My personal favorite is the bookmark that's shaped like a knitting needle. These patterns are so basic that anyone can manage them, and they make wonderful gifts for someone who you just don't know very well because they're simple enough to not offend anyone's tastes. Make yourself a few essentials for your own closet or kitchen, and then make some for your friends.
Your Recently Viewed Projects