18 Itsy Bitsy: Tiny Knitting Patterns
Forget big! Go small with these amazing tiny knit patterns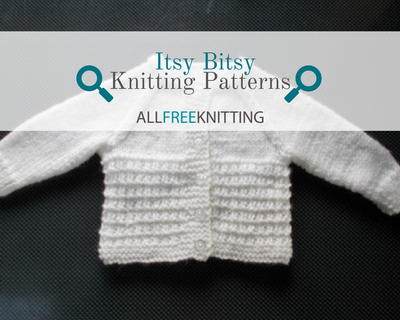 Knitting with super bulky yarn has been so popular lately that we've forgotten all the interesting things that we can put together with the smallest gauge needles and the lightest of yarns. Tiny knitting patterns are here to prove that bigger isn't always better, and there are plenty of small projects out there that not only look super cool--but provide a more stimulating challenge for experienced knitters than arm knitting with jumbo strands of wool roving. 

So what exactly is the benefit of knitting tiny? For one thing, it's actually an amazing practice for larger pieces. Have you ever made a knit baby sweater before knitting a sweater for yourself? Just apply that same concept to almost any knit project and you're on your way!

It doesn't stop at clothes either, small home decor items and even knit holiday decorations look really gorgeous when they're small and handmade. Dress up your centerpieces and coffee tables to suit the season or some little, knit ornaments patterns to hand out as gifts. 

Why not just knit tiny for the challenge of it? There's really no need to make a tiny knit pattern that's the size of a dime but it does look really cute when it's all finished. 

If you're looking for something new and interesting to try, then give these tiny knit patterns a go! 
Table of Contents
Tiny Holiday Knit Patterns
Decorate every nook and cranny of your house for the holidays with these tiny knit patterns. Hide tiny Easter baskets with your Easter eggs, give your kids a smaller trick-or-treat basket to prevent them from getting too sick of candy, or even make a nice knitting ornament to gift to a fellow yarn crafter! 
Tiny Baby Knit Patterns
Babies are awfully tiny, aren't they? They need the smallest of socks and hats to cover them up and keep them warm. Even smaller are the premature babies who could use a well-fitted and soft cardigan more than most of us. These tiny knit patterns were made for the tiniest of humans. Try knitting a few for charity!
Tiny Challenge Knits
Sometimes you want to push the boundaries of what knitting can do just because you can. Maybe you're somebody who's looking for a serious challenge, something to cramp their hands and cross their eyes. If so, here are some of the teeniest, tiniest patterns that you might need a magnifying glass to finish. 
Your Recently Viewed Projects