Year Round Style: 20 Free Cardigan Knitting Patterns for Every Season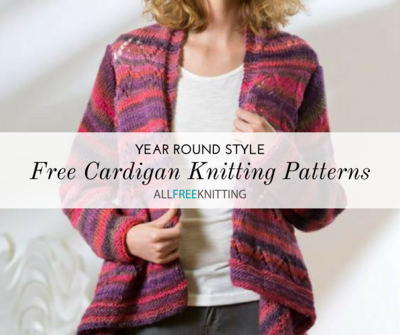 There's nothing like coming across a good cardigan knitting pattern. This timeless wardrobe enhancer isn't just a year-round essential—it's a stylish fashion statement that can completely change the look your entire ensemble.

That's right, free knit cardigan patterns aren't just an outfit-finishers, anymore. The right cardigan knitting pattern may even be the focal point of your whole look.
 
The best thing about free cardigan knitting patterns is that there are so many creative ways to make one your own. Based on the season, there are a million ways to fine tune a timeless pattern into a personal masterpiece.

By starting with a classic pattern, you'll have a template that will last you for years to come. Any one of these free cardigan knitting patterns listed below would make a wonderful canvas for creativity and experimentation.
Table of Contents
Free Cardigan Knitting Patterns for Summer
The most important part about knitting for the warmer months is to choose fiber that are light and breathable, such as cotton and linen. These free cardigan patterns feature patterns full of airy lace designs and flowing silhouettes to keep you calm, cool and collected no matter how hot it gets. If they're still too warm for you, we recommend them for the warmer months anyway; there's nothing like that horrifying shock of walking into an overly air-conditioned building after being out in the warm sun and having nothing to cover up with!
Looking for more ways to enhance your wardrobe for the summer? You're going to need some sweaters, too! Check out
Free Cardigan Knitting Patterns for Autumn
As the weather starts to turn, it's fun to start experimenting with heavier fibers and thicker stitch patterns like cables. These cozy cardigan knitting patterns are the perfect layering piece for casual outdoor activities and dressier indoor occasions. The challenge with finding cardigans for autumn is that you have to predict every day whether or not you'll need them, with the weather constantly flip-flopping. These are light enough for the warmer days in autumn, but warm enough to protect your skin from unexpected chills.
Free Cardigan Knitting Patterns for Winter
These warm and cuddle cardigan knitting patterns are sure to stand up to whatever winter throws at you. Thick, chunky cables and cozy fibers are the perfect choice for cold winter nights curled up by the fire. With winter cardigan kntiting patterns, you really want to go all-out; there is no space for lace when it's negative 10 degrees outside. Every layer counts, and a hand-knit, cozy cardigan is one of those layers you'll be thanking yourself for when the snow starts to fall.
You know what makes the perfect companion piece for an expertly-knit cardigan for winter? A knit hat! Check out our list of fave knit hat patterns to find one that matches your new cardigan: 66+ Knit Hat Patterns for Winter
Free Cardigan Knitting Patterns for Spring
These delicate cardigan knitting patterns feature charming lace stitch work and elegantly draping silhouettes that are perfect for spring. Not only do all of these designs cater especially to any solid color pastel, they offer just enough warm for those days when winter tries to make a comeback. Much like autumn cardigans, you need to protect yourself against unforeseen chills, but unlike autumn cardigans, you're allowed more frilly, girly, pastel knits! Take advantage of this time as you gear up for summer and make yourself a cardigan knitting pattern perfect for the springtime.
Do you own a cardigan you wear all year round?
Your Recently Viewed Projects