25 Free Knitting Patterns for Baby Booties and Socks
Check out our best knitted baby booties patterns... free!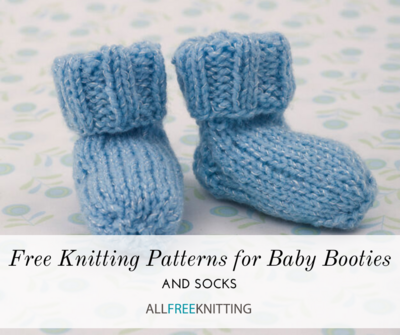 The only thing cuter than tiny baby feet are the adorable free knitting patterns for baby booties and socks in this list! Sweet, soft, and small enough to fit in the palm of your hand, it's hard not to love these little shoes. Baby shoes have exploded in popularity throughout the years.

Here at AllFreeKnitting, we have always thought the most adorable baby shoes are the ones that are handmade with love. Free baby bootie knitting patterns are an adorable way to celebrate the birth of a little one, especially because you can make multiple pairs without sparing much time or yarn.

Sign Up for Free Patterns

PLUS! Check out how to knit an easy pair of baby booties in the video below!
Table of Contents
Classic Free Baby Bootie Knitting Patterns
Looking for a timeless look? You can't go wrong with the basic baby bootie design. These sweet knit bootie patterns are great examples of the classic baby bootie. As such, they make a wonderful baby shower gift. Any expectant mother will simply adore such a sweet and practical way to keep their little one's feet nice and warm all day long.

These free knitting patterns for baby booties and socks are also incredibly easy to slip on and off, so you don't need to worry about dealing with fidgety baby toes when you try to put them on and take them off. It's also important to note these little boots won't slip off if you don't want them to. They will stay put until you're ready to take them off your sweet babe's feet.
Designer Knitted Baby Booties
Few things are more satisfying than dressing your wee one in miniature versions of the cutest designer fashions. You will love how these free baby bootie patterns turn out and since it doesn't take much effort to work up a pair, you can make a handful to match a variety of outfits in your baby's closet.

Just take a look at these Bitty Baby Uggs. These little booties look just like the designer boots without the designer price tag. It certainly make sense to create your own baby clothes and accessories since your peanut will be growing and changing at such a rapid rate.
Funky Knitted Baby Booties
Time to play make believe with baby in these quirky little shoes. There's a pair for every special fairytale you read! These free knitting patterns for baby booties and socks are just too adorable to resist. If you're drawn to interesting designs and unusual patterns, then these unique knit baby booties are for you.

With so many colors and styles to choose from, the hardest part will be deciding which pair to work up first. Baby booties are incredibly versatile and can really be customized to fit your personal preference. When it comes to design options, the sky is truly the limit.
You have enough to worry about as a mom-to-be. Don't let finding cute baby knitting patterns be one of them. Check out our top recommendations for incoming babies here:  17 Knitting Patterns for New Moms
Bonus: Baby Booties Knitting Pattern for Beginners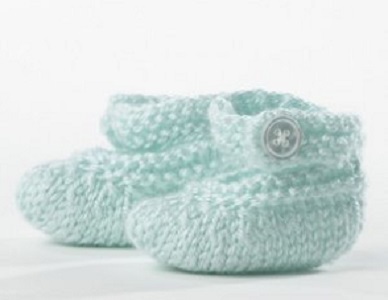 The Mint Button Booties are perfect for novice knitters looking for a simple, timeless, and easy knitting pattern. This tiny knit baby booties pattern has an adorable button strap to keep them securely fastened on baby's feet. The clean lines and basic form of this baby shoe pattern offers a wonderful opportunity to experiment with prints, patterns, and more.

Go To This Pattern
Pattern
MATERIALS

Bernat®Softee Baby (140 g /5 oz; 361 m/395 yds) - 02000 (White) OR 02001 (Pink) OR 02002 (Pale Blue) OR 02004 (Mint) OR 02003 (Lemon) - With 1 ball of yarn you can make approx 13 pairs of booties

Sizes 4 mm (U.S. 6) knitting needles or size needed to obtain gauge

2 buttons

SIZES: 3/6 (12/18) mos

ABBREVIATIONS

Ssk = Slip next 2 stitches knitwise one at a time, then knit through back loops together.

GAUGE: 22 sts and 28 rows = 4 ins [10 cm] in stocking st

INSTRUCTIONS:

The instructions are written for smaller size. If changes are necessary for larger size the instructions will be written thus ( ).

Cast on 29 (33)sts.

1st row: (RS). (K1. M1) twice. K11 (13). (M1. K1) twice (place marker on last st). M1. K1. M1. K11 (13). (M1. K1) twice. 37 (41)sts.
2nd row: Purl.
3rd row: (K1. M1) twice. Knit to 2 sts before marked st. (M1. K1) 3 times. M1. Knit to last 2 sts. (M1. K1) twice. Rep last 2 rows 0 (1) time more. 45 (57)sts. Beg with a purl row, work 3 (5) rows in stocking st.

Shape instep:
1st row: K10 (13). (K1. ssk) 4 (5) times. K1. (K2tog. K1) 4 (5) times. K10 (13). 37 (47)sts.
2nd row: Purl.
3rd row: K10 (13). (ssk) 4 (5) times. K1. (K2tog) 4 (5) times. K10 (13). 29 (37)sts.
Knit 2 rows. Cast off knitwise.

Strap (make 2):
Cast on 31 (37) sts.
1st row: Knit.
2nd row: K1. K2tog. yo. Knit to end of row.
3rd row: Knit.
Cast off knitwise.

FINISHING
Sew back and sole seam. Sew Strap to Bootie as shown in picture. Sew buttons to correspond to buttonholes.
Do you like knitting baby booties?
Your Recently Viewed Projects