31 Cute Baby Hat Knitting Patterns
These cute hats for babies are just what you need for your next knitting project!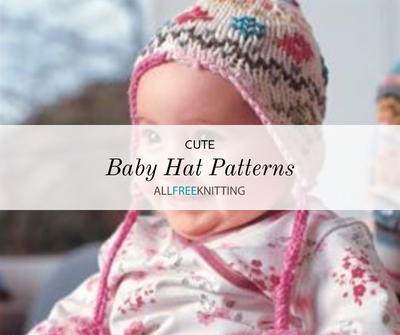 One of the first thing expecting mothers start knitting are the baby knit hats. Can you blame them? They're adorable! You're never going to get another chance in your life to wear one of those cute baby knit hats, so you might as well get excited about being able to dress your child up in them (and not to mention the matching knitted baby blankets).

We have a ton of free baby knitting patterns for hats that are sure to have you new mothers jumping out of your seats with joy, and you expecting grandmothers planning out your next twelve gifts to your daughters and daughters-in-law.
 
The best part about baby knit hats is that you have such a variety to work with. When you see a grown man walking around in a froggy hat, sure, you might laugh, but for the most part you'll feel a distinct sense of secondhand embarrassment. With baby knit hats, frogs are commonplace - as are giant flowers, cute little ruffles, and all other ridiculous themes you would never wear as an adult. They all look adorable! Live vicariously through your little nugget with these knit hat designs, ranging from classic to crazy.
Table of Contents
Baby Knit Hats for Winter
Even if you gave birth to your little one in the warm summer, you can't escape your baby having to deal with the winter. Thankfully, there are baby knit hats for that. These hats are all cozy and warm to keep your baby's sensitive skin from chilling. There will be no shivers with any of these baby knit hats hats. Many of them even have cute little pom poms for an extra hint of playfulness! Don't be surprised if your baby cries when you take off his hat. It's just so comfy!
Classic Baby Hat Patterns
These simple baby hats are simply adorable. Some mothers don't want to dress up their babies in crazy hats, and that's okay! That doesn't mean that your little one won't be undeniably cute. These baby knit hats are classic in design and will fit with absolutely any baby. With an embellishment or two here or there, or some colorwork, you don't have to settle for straightforward, unimpressive baby knit hats. Pick her out a hat that will enhance her cuteness rather than shout over it.
Unique Baby Knit Hat Patterns
If you're crazy about babies, you should knit your baby an equally crazy hat! These hats bend the rules of baby knit hats and put a unique spin on the classic design. You can choose animal-themed baby knit hats, or hats with two pom poms, or even hats with a crown design! The possibilities are endless. The best part about these baby knit hats is that you can use them as embarrassment material when he or she gets to high school and brings home a date.
Your Recently Viewed Projects