The Best Knitting Needles to Use
Bamboo? Aluminum? Circular? Straight? Fixed? Interchangeable? Find out what it all means and which are the best!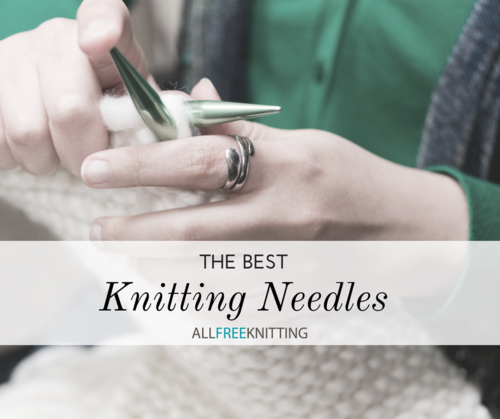 If you ask a thousand knitters what are the best knitting needles to use, you'll get a thousand different answers. It may feel like every other knitter in the world is conspiring against you by leading you in all different directions, but the reason for this simply comes down to human nature: we are all beautifully complex creatures with different needs and preferences, and those needs and preferences bring us to different knitting needles.

While other people can't say the best knitting needles to use for your personal preferences, different factors can certainly help guide your needle purchases, such as your knitting skill level, your fiber preferences, your current project, and your tension. With all these variables in mind, read on for our recommendations for needle types, shapes, and materials.
The Best Knitting Needles for Beginners
Most beginners will tell you that they learned how to knit on a pair of their mother's or grandma's straight needles. Typically, these needles would be a size 8, the most common knitting needle size to go along with the most common yarn weight, size 4 or worsted weight.

I taught a beginning knitting class here to my coworkers a couple of years ago, and in that class, I had everyone start with size 8 16" aluminum circular knitting needles. Experienced knitters, including myself, will often say that they knit even flat items on circular knitting needles, since you don't have to perform a balancing act the way you do with straight needles. It was this preference of mine that led me to choose these needles—I was starry-eyed with the hope that all 20-something of my students would go on to love knitting and knit every day, and wanted to start them off with the type of needle they would most likely be using for years to come.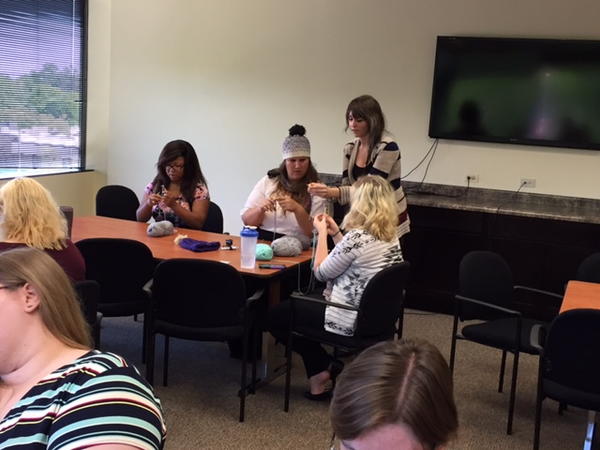 If I could do it over again, I would have had the beginners use size 8 bamboo straight needles. Yes, they're clunkier to hold and get a hang of, and the texture of the wood may cause the yarn to snag, but these are, in my humble opinion, the most practical needles on which to learn to knit. My students on circular needles found themselves confused with switching between the two sides of the circular needles—a confusion that would have been avoided with two separate needle pieces—and found their yarn slipping off frequently. Had they used bamboo needles, they could have focused on the motions of casting on and knitting without worrying about dropping all of their hard-earned stitches right off the needles.

Of course, more experienced teachers may have differing opinions on the best knitting needles for beginners. If you're looking to take a knitting class for which the materials aren't provided, reach out to your prospective teacher and ask him or her what needles they recommend. I'm sure they'll be ecstatic to see your enthusiasm and would love to impart their unique knowledge on you.
Needles to Use Based On Your Yarn Weight
The best material or type of knitting needle isn't heavily influenced by yarn weight, but the best knitting needle size is almost directly correlated to your yarn weight. I say "almost" for a few reasons. Firstly, you are never bound to a certain needle size. Knitting is a creative outlet, and you can use super chunky needles with super fine yarn, or extremely thin needles with super bulky yarn. You can even knit with two different needle sizes in a technique called "condo knitting!" Nobody is telling you "no."

Furthermore, patterns will often call for a knitting needle size contrary to the standard to be used. You'll frequently see shawls with lace or fingering yarn knit on needles for DK or worsted weight, because it gives the fabric a more drapey quality. Similarly, you'll often see rugs knit on needles smaller than the yarn typically calls for in order to get a nice, tight gauge and stiff fabric.

For a rough guideline on which needle size is appropriate to use based on your yarn weight, see the chart below: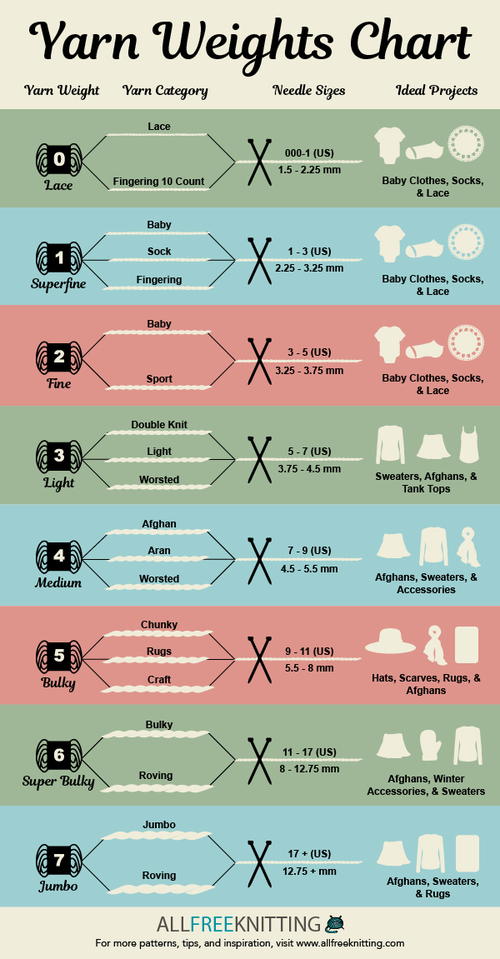 Needles to Use Based On Your Project Type
What you plan on knitting could very well influence the type of needle you choose to use. Lace knitting addicts typically swear by knitting needles designed specifically for lace—often used in the creation of lace shawls with weight 0 or 1 yarn, these needles are typically circular, 36" long (or more) to accommodate the large number of stitches on the project, and extremely pointy. Some brands even have separate tips you can buy to place on the tips of your needles that make them sharper. This sharpness comes in handy for lace knitting to help you get your needle in the eyelets of your work easily and efficiently.

Say you're looking to knit a larger garment such as a sweater or cardigan. In these cases, the best needles to use often depend on the construction of the project. If you read through your project and find that you'll be switching from knitting flat to knitting in the round at any given point, you'd be out of luck if you only brought straight needles to the table. In this case, circular needles are best to use for the entire project, since you can both knit flat and in the round on them. Additionally, are you instructed to use differently sized needles for the cuffs and collar than the body of the work? You can begin knitting the next portion of the project with a pair of differently-sized needles than the ones you started with, but it can be awkward and difficult to juggle two very long circular knitting needles. In this case, interchangeable needles come in handy as you can just switch out the tips when it's time to switch needle sizes. In short, the best types of needles for sweaters or cardigans are arguably interchangeable, long circular knitting needles. The material of the needle doesn't matter much here; you can decide which material to purchase based on your tension and fiber.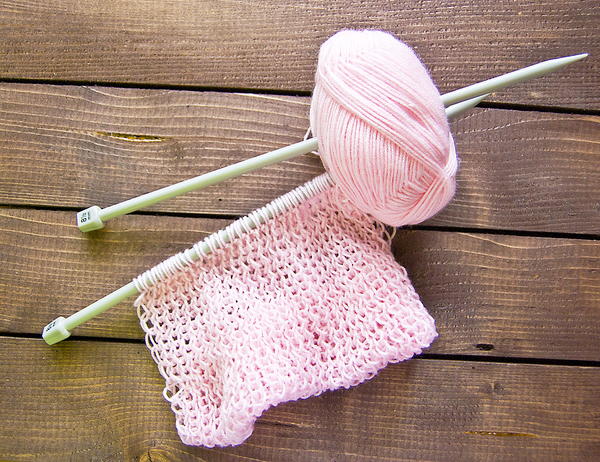 Medium-sized accessory projects like scarves, cowls, infinity scarves, and bags are also not quite bound to a certain knitting needle material, and the type of needle is heavily influenced by the construction of the project. For a flat scarf or purse, or cowl/infinity scarf which is knit flat and then seamed together, you could just as easily use straight needles as circular needles to knit your flat accessory. If the scarf is tubular, or you are knitting a seamless cowl, infinity scarf, or purse, you are essentially bound to circular knitting needles; while DPNs may work on a tubular scarf, they will almost certainly be too small for a cowl or infinity scarf.

Finally, your smaller-diameter projects such as mittens, socks, amigurumi and the like benefit the most from DPNs or double-pointed needles. That isn't to say you can't use circular needles for these types of projects; using a technique called the magic loop method, you can use a very long pair of circular needles to knit small-diameter projects. This isn't as straightforward as utilizing DPNs, but once you get used to it, knitters say it's life-changing. Especially if you can learn to knit two at a time with the magic loop method; in that case, long circular needles are perfect for socks, mittens, leg warmers, or anything else that comes in pairs!

Here's a secret: when I don't want to knit the majority of a project on DPNs, since they hurt my hands, I'll use a pair of 9" circular knitting needles! Yes, they exist, and they're great for knitting the bulk of a mitten or the sleeve of a sweater. I can't recommend them enough.
Needles to Use Based On Your Tension
The material of the knitting needle really comes into play based on your tension. If you often find that your swatch perfectly matches the gauge given on a project and your tension is even and predictable, you can really choose whichever knitting needle material makes you the most comfortable.

Alternatively, let's say you're a very tight knitter, like myself. You'll probably benefit more from a smooth material of knitting needle so your tight stitches can slide more easily off of the needle. Metal and plastic needles are most appropriate for your purposes, but I'm personally a bigger fan of aluminum needles over plastic. While they're slightly more expensive, even plastic can be a bit too grippy for the tight knitter.

On the flip-side, if you find that you're a rather loose knitter and your stitches are always sliding off of your needles, wood or bamboo knitting needles are your best friends. These needle types are often very grabby and will easily hold your stitches firmly in place.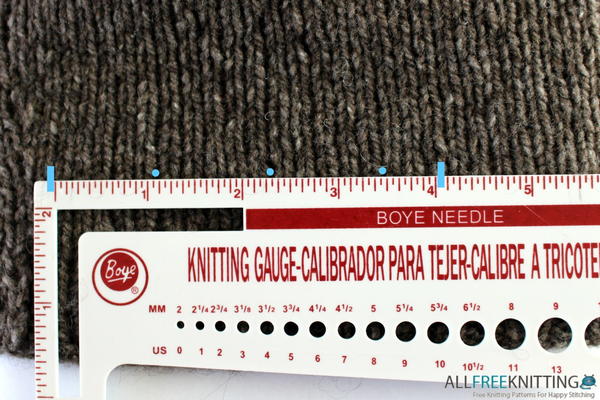 The Best Knitting Needles for Arthritis
If you're an arthritis sufferer, there are specific types of needles that are perfect for lessening your pain and making your knitting experience longer and more enjoyable. Wood and bamboo needles are arguably the best sort of material for your purposes, since the impact of these needles will be softer and less jarring for your joints.

As far as the shape of the needle is concerned, the key is to try everything you can out for an hour to find which is the most comfortable for you, personally. A lot of arthritis sufferers swear by square knitting needles, which gives them an easier grip of the needles. Others prefer circular needles for both flat and tubular projects since they don't need to focus on holding up the weight of the needles so much while they work.

Ultimately, experimenting is deeply encouraged! While you're at it, check out LoveKnitting for a guide to different stretches you can do to improve your experience of knitting with arthritis.
Needles to Use Based On Your Fiber
Similar to choosing needle material based on your tension, you may choose your material based on how slippery the yarn is. As previously mentioned, wood or bamboo needles will be better for stopping your stitches from slipping off the needles, so they're preferred heavily for more slippery yarns, such as bamboo, silk, alpaca, or very smooth synthetic yarns. You may find you prefer metal or plastic needles for scratchier, more fibrous yarn types such as wool, cotton, linen, hemp, or sturdier synthetics, since you'll have an easier time moving the yarn from one needle to another if the needle is smoother.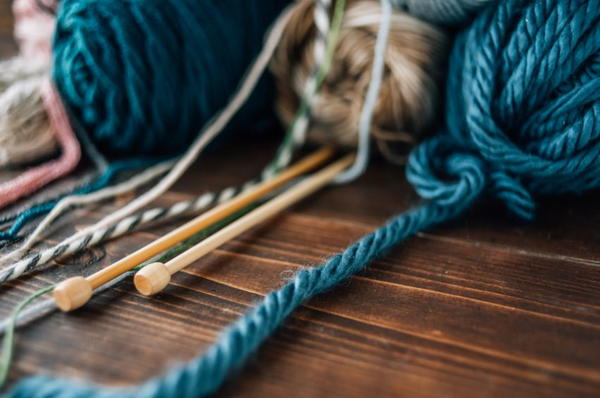 Fixed Needles vs. Interchangeable
I will almost always recommend interchangeable needles for knitting enthusiasts who have been knitting for long enough to know that this will be a long-term hobby for them, but not so long that they already have thirty different types of needles in their collections. Heck, even then, I might encourage them to part with their fifteen pairs of fixed circular needles and invest in a quality set of interchangeable needles.

The benefits to interchangeable needle sets are numerous. Not only will you have an easier time switching between needle sizes in projects that call for it, as mentioned above, but you can also easily switch out or add onto your cord lengths for projects which increase stitches as they work up and grow in width. Additionally, in one convenient spot, you have almost every needle you will ever need to use, barring extremely thin or thick needles and double-pointed needles.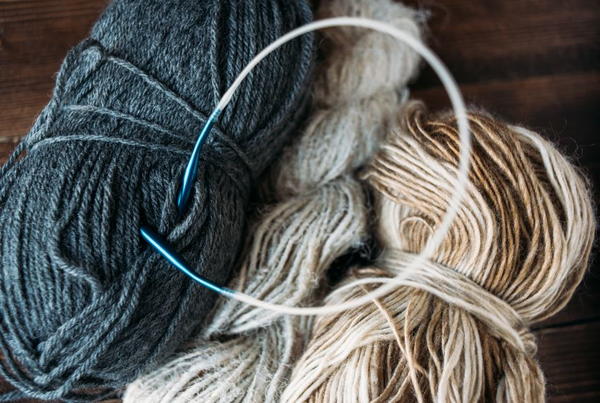 Of course, there are benefits to owning fixed needles, as well. Firstly, you may have already amassed quite the collection of fixed knitting needles and consider it wasteful to purchase a whole new set of needles just for ease-of-access. Secondly, interchangeable knitting needle sets only come with a finite number of cords, so you're out-of-luck if you're the type of person who always has eight or nine projects going at the same time, because you simply won't have enough cords for that. Finally, interchangeable knitting needles require a lot of fiddling and have a lot of moving parts, so you can easily lose half of your size 9 needles or misplace your most-used cord length somewhere and just frustrate yourself.

For the best of both worlds, do as I do: have on-hand your beloved, well-used set of interchangeable knitting needles, but keep around some fixed circulars and straight needles in your most-used sizes and sizes that your set doesn't come with, and all different sizes of DPNs. Is it a lot to keep around? Yes, but I'm never wanting for the right knitting needle size or shape for a project.
 
The Best Knitting Needles Brand
The truth is that there is no right answer to this! The best knitting needles brand is the one that is easily available to you, whether online or in-person, has your most-used sizes on-hand, comes in the material that works best for your tension and fiber type, and is affordable for your purposes. I'm partial to Takumi Needles from Clover for the rare times I want to use bamboo needles and Susan Bates needles for my everyday go-to, but I know people who can't stand either of them! Play around, experiment, and learn that ultimately the best knitting needles to use are the ones that you think are the best.
What is your favorite, go-to set of knitting needles?
Your Recently Viewed Projects