How to Stop Yarn Pilling
Those pesky pills on your knitted garments are no match for this tutorial!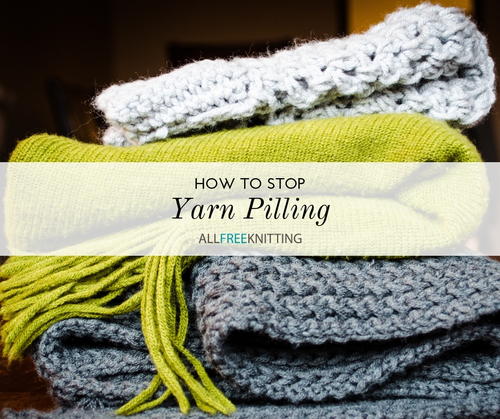 Yarn pilling is very frustrating, even on garments that you didn't hand knit. There are some solutions to this, but we should warn you that none of them work 100% of the time, and pilling is really just the nature of knitting and fiber arts in general.

While certain types of yarns (and even stitch choice) can result in less pilling or delayed pilling, this is something that's going to happen to just about every yarn. You can, however, buy anti-pilling yarns that are much less likely to pill than other types.
What Is Pilling?
Pilling is something that happens to any item made with yarn (especially wool yarns) whether knitted or crocheted. Over time and with frequent use, the fibers on the outermost surfaces of your yarn will start to lose their bind to each other. This shredding of the yarn will eventually form tiny pills on the outside of your knitted garments. They usually aren't very noticeable, but once you see them on your project, they can sometimes be impossible to ignore.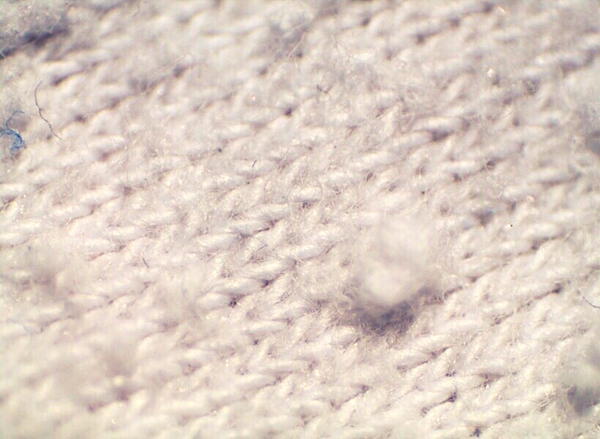 Pilling Is Just the Nature of Knitting
While this might not be the most reassuring thing in the world, pilling is, in fact, just the nature of things in the fiber world.

There are some details below about the root causes of pilling yarn, but the weight and ply of the yarn have a big effect on this. This is why most knit sweater patterns use low-weight, high-ply yarns; this goes for just about any garment that is going to get a lot of use, like socks and hats.

You can embrace the pilling, if you want. I recently knitted a pillow with super bulky, 100% merino yarn. It's so plush and fluffy, and I knew from the start that it would begin to pill almost instantly. And it did! I still think it was worth it to use that yarn, however. I can always depill (see below), and it'll be just fine, but I did choose to put it in a chair that I don't use as much.
How to Depill and How Often to Do It
There are a few methods that people use for depilling their garments and knitted items. But in general, all of these methods are going to do the same thing -- over time and with repeated depillings, your yarn will start to thin and shred because you're literally removing parts of the yarn. This is okay, but keep in mind that obsessive depilling can hurt your garment, too.

Here's the Easiest Way to Do It:
Identify the part of your garment that is starting to pill.
 
Place that part of the garment over a hard surface.
Note: Most just do this on a table, but if you find a slightly curved surface (like the arm of a chair), you can get a slightly closer removal.
 
With your utensil of choice, lightly scrape off the pills from the surface of the fabric. There are many different devices you can use to remove pilling. You can buy tools that are specifically designed for depilling, but if you don't feel like using one of those, there are some creative solutions:

A disposable razor
A blade of a pair of scissors
A pumice stone
A scrubby
A double-sided scrubbing sponge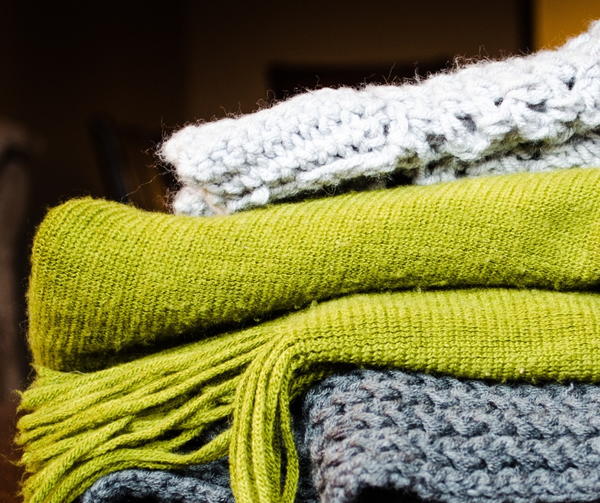 The Root Causes of Pilling
Anyone who's knitted more than a swatch of stockinette can tell you that knitting is truly magical. Even physicists can't quite figure out certain aspects of this mystical fabric because there are just so many factors that go into knitting -- from the yarn to the gauge to even the size of the knitter's hands. Understanding why yarn pills can be as complicated as knitting itself, but at the root cause of pilling is friction.

Here are a few things to consider about pilling and your fabric:
Yarn Fiber
Certain yarns and fibers will pill more than others. The truth of the matter is that the softer a yarn is, the more easily it will pill, and there's not much you can do about it. And "natural" animal fibers tend to pill faster than acrylic yarn.
 
Yarn Ply
The ply of the yarn is another big determining factor in pilling. If you take a magnifying glass to your yarn, you can see the individual plies of the yarn itself. The more plies a yarn has, the less pilling you're going to see, in general.

It should be noted, though that yarn ply and yarn weight are two very different things. Often very thing yarns, like lace weight yarns, will be comprised of more plies than thicker, super bulky yarns. The difference here is in the thickness of the plies themselves; thicker plies will pill more easily.
 
The Stitch Used
Pilling can happen with any stitch in knitting, but certain ones are more prone to this than others. Or rather, certain stitches show pilling more easily. Stockinette-based stitches tend to show pilling very easily; garter-based stitches that feature more texture and purl bumps will still pill, but it's often harder to notice the pilling.
 
Garment Type
The purpose of the garment you've knitted will also determine how much your yarn will pill. Heavy-use items, like sweaters, scarves, and pillows, receive a lot more physical contact; this creates the friction that makes pilling more common with these types of items.
What tools do you use to depill your sweaters?
Let us know in the comments below!
Free projects, giveaways, exclusive partner offers, and more straight to your inbox!
Your Recently Viewed Projects
Images from other crafters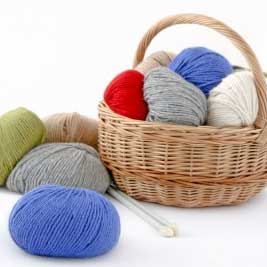 Something worth saving?
SAVE all your favorite patterns
ADD personal notes
QUICKLY reference your patterns