How to Knit with DPNs (Double Pointed Needles)
Knitting with DPNs might seem scary because it looks like your stitches could fall off! But once you give it a try, it really is a breeze.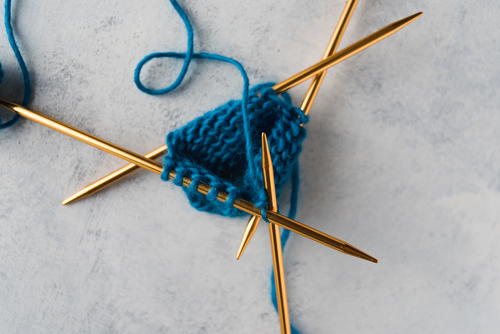 How to Knit with DPNs
Learning how to knit in the round is all about personal preference. Some people like circular knitting needles; others prefer the more old-fashioned method of knitting with double pointed needles (or DPNs). This video will teach you how to knit with DPNs so you can master this knitting skill and open up a whole new world of circular knitting patterns.

For all of you beginning knitters, this is a great knitting video to really break down how to knit using double pointed needles. It may seem complex and like you have to juggle a lot; but, this is a great tutorial for all of you visual learners to be able to master knitting in the round. From hats to sweaters, the possibilities are truly endless with DPNs.

If you're new to knitting in the round, be sure to check out our other videos on how to knit with circular needles and how to knit the magic loop method.

Materials List
Double pointed knitting needles, 5
Yarn
Instructions
Cast on in the round as your pattern calls for.

Check for twists in your cast on row and then join the ends together.

Note: Be sure to mark the beginning of your round with a stitch marker.

Arrange your needles in a tic-tac-toe shape with four of your five DPNs, and work each side from needle to needle flat. 

Find your working yarn, and use your fifth DPN (the one that doesn't currently have stitches on it) to begin knitting from the stitch to which the working yarn is attached.

Work through your first stitch, and continue to knit until you have worked all the stitches on that particular needle.

You should now have a new empty knitting needle that you will use to knit from the subsequent DPN with live stitches on it.

Repeat from step 3 all the way around.

Tip: As you continue to knit try and make sure there isn't a whole bunch of yarn between your needles to help with tension. 
Your Recently Viewed Projects