9 Bernat Pop! Patterns
Bernat Pop! yarn isn't just for crocheted afghans. See what you can knit with it here!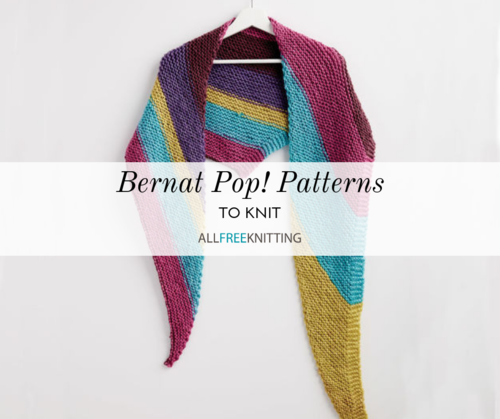 If you've so much as set foot into a craft store some time in the last two years, you've probably noticed cakes of lovely multicolored yarn gracing the shelves of the yarn section. When Caron Cakes took the world by storm, it seems every yarn brand had their day making a similar sort of skein, such as Lion Brand's Mandala yarn, and Premier Yarns Sweet Roll. One particular kind you might have seen is Bernat Pop!

While typically lower in yardage than some of the other self-striping cake yarns, it boasts an affordable price and unique colorways that just beg to be transformed into something beautiful. A common complaint that knitters have with these lovely cake yarns is that they seem to lend themselves better to crochet, where patterns such as granny square afghans and crocodile stitch accessories really thrive and show off the cool colors of the yarn.

It may not seem like it, but there's a good handful of lovely knitting patterns out there made specifically for Bernat Pop! yarn, in both the classic worsted weight format and the weight category 6 Bernat Pop! Bulky yarn. Check out some of the incredible patterns for this yarn below and put those cakes to good use!
How will you use your Bernat Pop! yarn?
Your Recently Viewed Projects