Best Yarn for Knitting Sweaters: Sweater Knitting Patterns for Christmas
Learn about sweater yarn and discover some great Christmas knitting sweater patterns!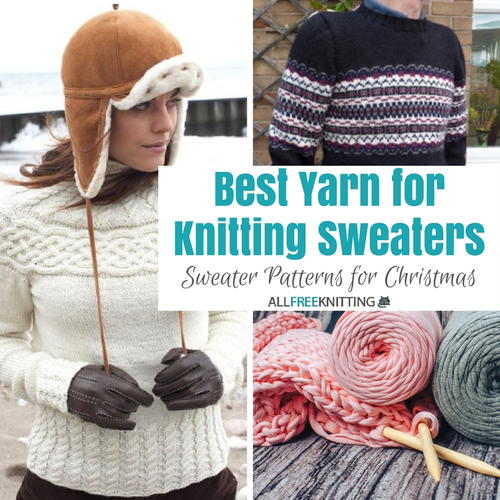 It is always overwhelming to begin a large project like a knit sweater. You know it will take you a long time to make and that you will be using the final product for years to come. How do you choose the best yarn for knitting sweaters?

That's where this article comes in. Best Yarn for Knitting Sweaters: Sweater Knitting Patterns for Christmas addresses the main considerations that go into deciding yarn for a sweater knitting project: weight, fiber, and price. Each section will give certain recommendations, but depending on your tastes and your pattern, a different option might be better for you.

Our friend and blogger Elaine Phillips from abc-knitting-patterns.com seems to always be creating and making new projects, including sweaters, for her website. She was generous enough to lend her expertise to this article on the best yarn for sweater knitting. You'll see her advice in each section.

And, since the holidays always seem to be right around the corner, it seemed fitting to include great Christmas knitting sweater patterns to be worn on the special holiday or given as a gift. You need knit sweaters no matter the time of year, but the winter chills around Christmas call for some real sweater snuggling.

Without further ado, let's figure out how to find the best sweater yarn!

For more great projects like this, subscribe to our free email newsletter!
Sweater Knitting Tips to Begin
"The choice of yarn for a sweater depends on the pattern and what you're using the sweater for."
         --Elaine Phillips from abc-knitting-patterns.com

This may not be your favorite answer because it makes things more complicated, but what Elaine says is true. The right choice for yarn will always be different based on pattern and use.

But, here are a few things to think about no matter what your pattern and yarn:

1. Put time into your decision. We will talk more about this later, but a sweater is a very large project, so you want to be sure you have the best yarn possible for the pattern.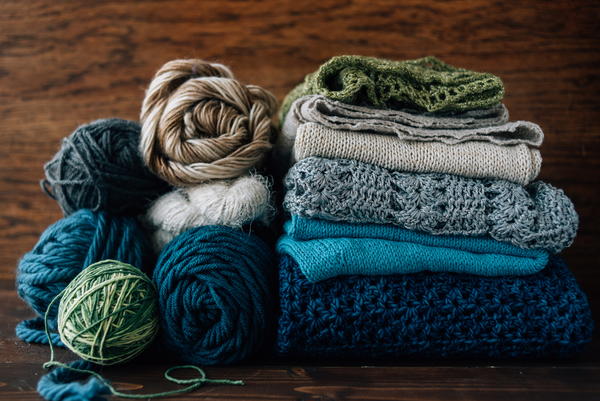 2. Knit a swatch of your pattern in the yarn you choose, just to make sure it has the drape, look, and feel that you want. If you find out right away that you dislike a yarn for your pattern, you can more easily switch.

3. Sometimes the best yarn for knitting sweaters is the one the pattern recommends. You may dream of a different yarn that you think would be just perfect, but in the end, it might not work. If you like the way the picture on the pattern looks, you know the yarn the designer used will work well. As Glenna from glennaknits.com says, "you can bet that your own finished product stands a good chance of success if you use the same stuff."
Yarn Weight for Sweater Knitting
Yarn weight is the first element to decide because the weight you choose will dictate what pattern you make. Weight determines needle size and the size of your final project, so it is very important to think about.

Advice from Elaine: "A pattern that uses bulky or super bulky yarn will be much quicker to knit, and generally warmer. A fine yarn, such as sport, fingering or even lace weight yarn will be slower to knit, but you can use it for some really intricate patterns. Worsted weight is somewhere in the middle, and is probably my top choice for a general sweater yarn."

There are sweater projects in every weight you can think of, which means the sky is really the limit when it comes to great patterns you can make. From lacy designs made in fingering weight yarn to big, puffy stitches made in jumbo yarn, your sweater can be what you want it to be.

But, as Elaine said, worsted weight yarn seems to be the perfect "in the middle" option, since it can still be made into intricate designs, but it is also thicker (and warmer) than a lace yarn. It doesn't work up as quickly as a super bulky yarn, but in the end, it might be worth it.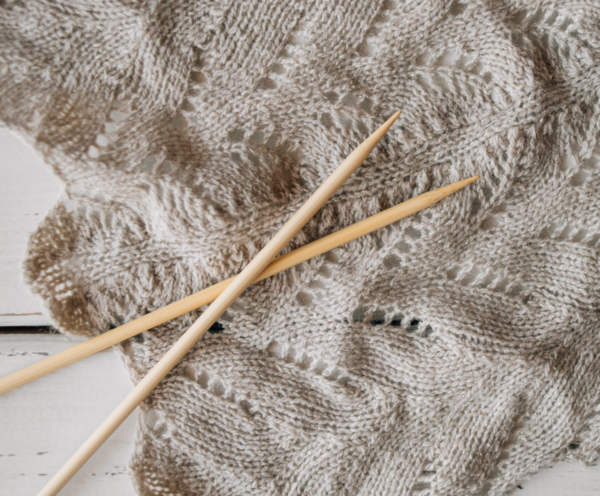 You also want to consider what needles you have, since certain yarn weights work best with smaller or larger knitting needle sizes. If you only have tiny needles, you'll probably want fingering weight yarn, but if you have large needles, you could use a bulky or super bulky yarn.

Below is a chart featuring yarn weights, recommended knitting needle sizes, and ideal projects for each weight. Click here to download a free, printable pdf of the chart.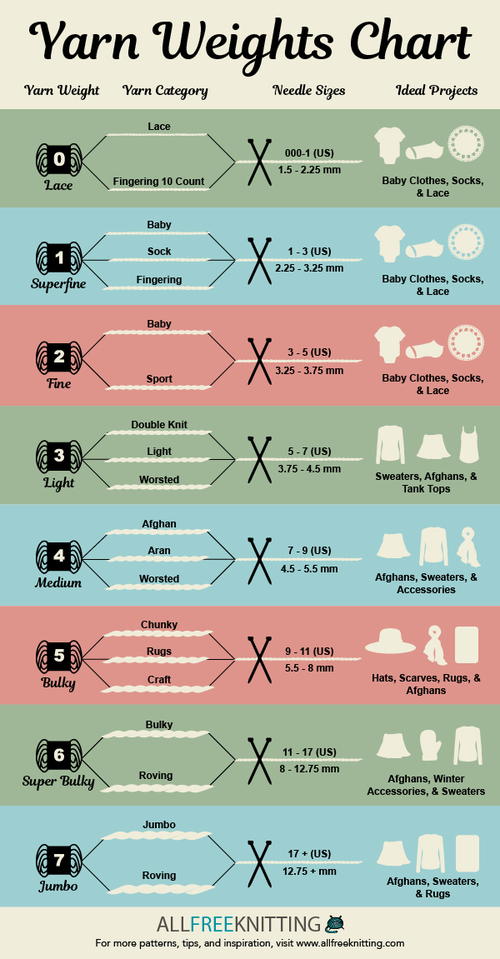 Yarn Fiber for Sweater Knitting
Yarn fiber is so very important since it often determines the drape, texture, and warmth of your knit sweater. There are many different types of yarn fibers, from natural to synthetic to a mix of the two.

Advice from Elaine: "For a warm, winter sweater, animal fibers are best. This would include wool, cashmere, alpaca, llama, etc. For a light summer sweater, plant fibers are best, such as cotton or flax. I think that natural fibers feel better to the skin, but synthetic fibers, such as acrylic, can be good for kids' clothes because they are easier to wash."

There is no real easy answer for what yarn fiber to choose. As Elaine said, there are different things to think about depending on who will use the sweater and when they will use it. But, her suggestions above do give a general frame of reference for the best types of fiber for different purposes.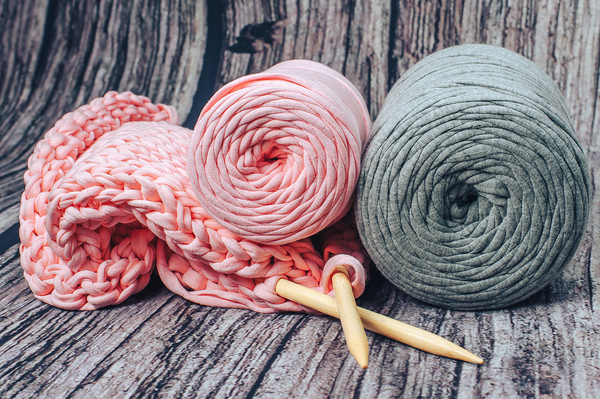 How to care for knit items is very important to think about when deciding yarn fiber, since after you knit the sweater, you (or someone else) will be using it for years. Depending on who the sweater is for, you may decide on one fiber over another purely for its washing instructions.

Be sure to check your yarn labels for care instructions before beginning your project. Below is a handy chart with explanations of yarn care symbols. Click here to download a free pdf of the chart.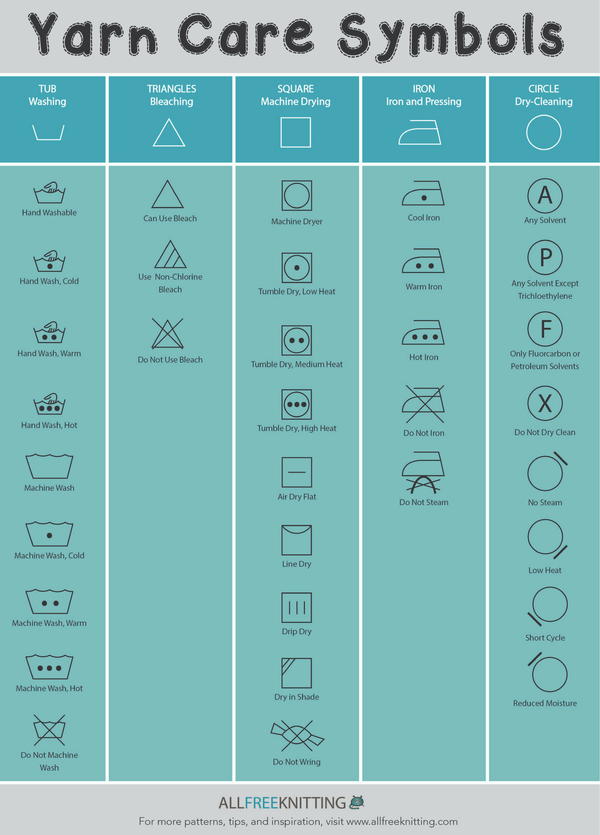 Cost of Sweater Yarn
Taking on the cost of a large project like a sweater can be overwhelming. When you need to buy 5 to 10 skeins for your sweater, the price can easily add up.

It can be tempting to only buy the bargain yarns to cut down on cost. While in some cases, that can be the best choice, for many projects, you will want to invest in a premium yarn.

Advice from Elaine: "For a project like a sweater, which is going to take longer to knit, I'm not usually too concerned with price. I focus on whether I like the yarn's texture and color. The difference between bargain bin yarns and premium yarns is not so great if you consider that you're going to be working on this sweater for a month or two, and you (or someone) will be wearing and enjoying the finished sweater for years to come!"

If you keep those words in mind, it makes it easier to take the plunge on more expensive yarns. You will spend a lot of time with this yarn, so you want to like how it looks and feels. Of course, there are always ways to save money buying yarn, so it may not be as expensive as you would think.
BONUS: Colors of Sweater Yarn
Elaine also gave us some tips on choosing the right color yarn for your sweater:

"I usually follow the rule that solid color yarns are better for more intricate patterns, like patterns that have a lot of lace or cable work. Color-changing yarns such as self-striping, hand-dyed, and others are better for simple stitches. But these rules are not set in concrete. Of course, if a pattern involves colorwork, solid colors usually, but not always, work best."
Sweater Knitting Patterns for Christmas
Knit sweater patterns are the perfect thing to wear on Christmas, when the snow and blustery cold send a chill through your bones. Plus, there are so many gorgeous patterns to choose from with designs ranging from fair isle to cable knit. Below are patterns perfect for a wintry Christmas outfit or gift, separated into women, men, children, and gifts. There are even a few dog sweaters thrown in! Your pup needs to stay cozy warm, too.

Knit Sweater Patterns for Women: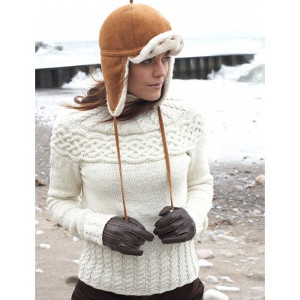 Now that you know all about the best yarn for knitting sweaters, I hope you will feel more confident in choosing the perfect one for you.

Thanks to Elaine for her wonderful advice!

Have fun making festive holiday sweaters!
What sweater patterns are you making for this holiday season?
Your Recently Viewed Projects