17 Knitted Wedding Shawl Patterns
Make a one-of-a-kind lace shawl for your big day with one of these free knit wedding patterns.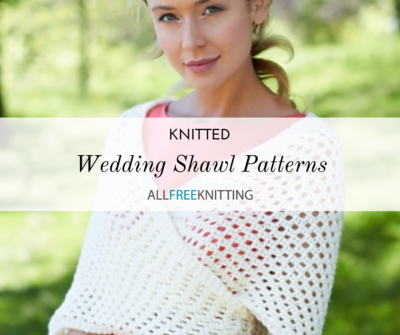 If your big day is coming up, have no fear. We've collected here for you 17 Knitted Wedding Shawl Patterns that will make the perfect wedding pattern for the shawl of your dreams.

Alternatively, you can make one for your darling daughter who's getting married, or that lucky granddaughter of yours who finally found Mr. Right.

Pick through these lace knitting patterns with a fine-toothed comb to come up with the perfect "something new" for the blushing bride. Make one to match the dress, or make one that suits the bride's personality.

With any one of our lace knitting patterns for wedding shawls, the bride will find herself with a dazzling and inimitable look in photos that she will gaze back on fondly for the rest of her life.

Most of these lace knitting patterns for shawls are not only simple, but relatively quick. This way, you can get the knit wedding shawl pattern out of the way and move onto the harder, less fun parts of planning the wedding. This doesn't mean you'll be sacrificing quality; all of these lace knitting patterns for shawls are completely gorgeous!

Take a look and find just the right shawl to say "I do" in.

Sign up for our free email newsletter for more amazing patterns!
Table of Contents
Lace Wedding Shawls in White
White is the quintessential wedding color. Most brides wear white on their wedding day, so you're going to want to have a selection of lace knitting patterns for wedding shawls in that traditional color.

All ten of these lace shawl patterns are white knitting patterns, making them perfect for the traditional wedding.

However, don't feel limited; feel free to alter the patterns to your liking to add a hint of the wedding colors, such as lilac or pink. You're the bride, after all, and the bridge gets what she wants.
Off-White Lace Wedding Shawl Patterns
Maybe you're not much of a traditional bride, or you want the only pure white thing at the wedding to be your dress. We have the lace knitting patterns for you!

These seven knitted wedding shawl patterns all sport an off-white color that is close enough to white to wear comfortably with your wedding dress, but has a hint of another color to easily tell it apart.

These lace knitting patterns can also be created in a white color, so if you're looking for a white shawl but none of the previous ten do it for you, don't feel shy about perusing these off-white wedding shawls.
Your Recently Viewed Projects