20 Knit Shrug Patterns for All Occasions
Find the perfect pattern for your taste and skill level below!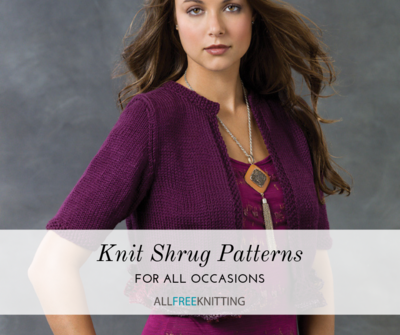 Shrugs are a wonderful garment for the fall, though you can wear one in almost any season. Throwing on a knitted shrug over your outfit is a wonderful way to accent your look, especially if your shrug is a bold color. Who doesn't love an easy way to accessorize? The shrug is also a great way to stay warm during autumn, or if you're trapped in a rather cold office building.

A naturally elegant garment, you can wear a shrug in any setting. The right shrug can be worn to a fancy dinner in lieu of a shawl, and can certainly be worn in an office. Even when relaxing at home, the shrug can offer just the right amount of protection to a chilly knitter. These knit shrug patterns celebrate the often underestimated shrug.

Though shrugs are often overlooked in the knitting world in favor of their flashier cousins, shawls and sweaters, shrugs have a strong fan base. There are lots of good reasons to love shrugs, too. Since they cover only the shoulders and upper arms, there's less to knit. Knitted shrug patterns are much quicker projects than sweater knitting patterns, and are only slightly more complicated than shawls. Most knit shrug patterns are knitted in one piece, so you can skip sewing on sleeves. There's lots of room for both lace and color lovers in the world of the shrug, too.

Simple lace patterns often adorn shrugs, making them is a perfect way to work on your lace skills. These wonderful knit shrug patterns are sure to become a favorite project. This list of 13+ Knit Shrug Patterns for All Occasions has a knitted shrug for every setting, from cozy snuggles on the couch to an elegant evening out. All you have to do is chose your favorite one (or two, or three) and cast on.

For more great projects like this, subscribe to our free email newsletter!
Table of Contents
Classic Knit Shrugs
These knit shrug patterns are the ones you're looking for if you're a classic girl. There's a reason that shrugs like these have stood the test of time, and that's because they're flattering on everyone, and they go well with just about anything! 
Unique Knit Shrugs
These shrug patterns have been chosen for this category based on their choice of colors, design, or otherwise unconventional look. If you're not the kind of girl who settles for ordinary, you're going to want to check these out.
Your Recently Viewed Projects