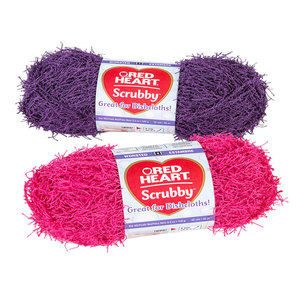 Red Heart Scrubby Yarn
Gifted By: Red Heart Yarn
www.redheart.com
Reviewed by Madison Bowes, Editor, AllFreeKnitting.com

A good dishcloth is hard to find. You want one that is rough enough to clean food from your dishes, but not so rough that it destroys your hands. The Red Heart Scrubby Yarn is the perfect balance between coarse and gentle. This is great for working up dishcloths in any color, shape, and size!
The yarn comes in an assortment of different colors with adorable names like " Duckie," "Royal," and "Coconut." With bright colors and better names, it makes cleaning your kitchen easy and fun! While other dishcloths are boring, try making yours shaped like your favorite animal, like this cute "I Don't Give a Hoot" owl discloth! This yarn would look good in any pattern, and making your cleaning tools attractive makes for a much better experience.
Red Heart Scrubby Yarn is worsted weight, so it will be able to withstand the daily wear and tear you put it through. If you're worried about it being sanitary, good news! This yarn is machine washable, so you can throw it in with your other towels and give it a quick spin for clean and fresh cleaning cloths every time. You can work with it right out of the washing machine because it is 100% polyester. This means the yarn will dry very quickly, keeping puddles from forming all over your sink and counter.
There are 92 yards of this yarn in each skein, so you will have plenty to work with when your friends and family see your adorable and practical creations and begin to ask for some of their own. This yarn will have you making discloths, bath scrubbies, and more before you know it.
Your Recently Viewed Projects