Lion Brand Sock-Ease Yarn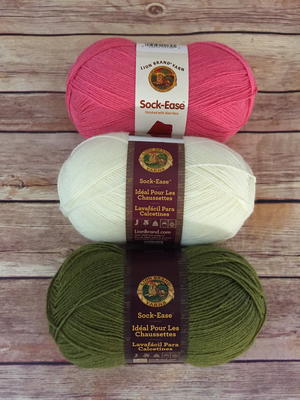 Sock-Ease Yarn
Gifted by: Lion Brand
www.lionbrand.com
Reviewed by Gretchen Tracy for AllFreeKnitting.com

First and foremost, we can't talk about a Lion Brand yarn without discussing the basics. And the basics are, as always, pretty compelling: great accessibility (Lion Brand is available everywhere from Wal-Mart to Jo-Ann Fabric to Michaels), reasonable price (one skein of this yarn is enough for a pair of socks and will only set you back $10.49), and consistency. But this Sock-Ease yarn consisting of fingering-weight fiber has more than just the basics going for it, as well. It's also well made, easy to knit, and softer than its wool/nylon combination might suggest.
So what's it like to knit with this fiber? Well, the aloe finish on the yarn gives it a nice feel that neither chafes your fingers nor gets sticky, as some aloe-finished yarns tend to do. It's also remarkably consistent, and I only found one or two sections in an entire skein with any width variation. Long story short, you almost don't even notice the fiber while you're knitting it, which allows you to focus on the pattern and the pattern alone. So, if you're in the market for a fingering-weight yarn that's washable and looks tidy, Lion Brand Sock-Ease yarn is definitely a good choice.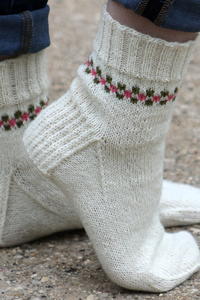 Make the Pansy Path Knit Socks with Sock-Ease Yarn.
Your Recently Viewed Projects