Lion Brand Modern Baby Yarn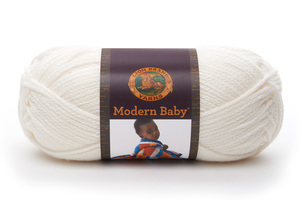 Lion Brand Modern Baby Yarn
Gifted By: Lion Brand Yarn
www.lionbrand.com
Reviewed by Julie DaMario
Knitting for babies is always so rewarding. While they might soon grow out of almost everything you knit, the memories you create will last a lifetime. Of course, there is much more to it than simply casting on the first couple of stitches. Finding the right yarn for your baby knits always takes time. The color has to be bright and happy, the texture has to be just right, and (most importantly) it has be be easy to wash. Modern Baby, the newest addition to the Lion Brand collection of yarns, hits on all your baby yarn requirements. From its bold and playful colorways to its non-allergenic qualities, this updated classic is perfect for baby garments of all kinds.

Modern Baby comes in nine beautiful colors: red, orange, yellow, chartreuse, green, turquoise, blue, purple, and pink. The line also offers the following versatile neutrals for accents and embroidery: cream (as shown in the main image), grey, and black. With such a great variety of colors, you're bound to come up with something absolutely adorable.

Modern Baby also offers the best of both worlds in terms of texture. This fiber blend of acrylic and nylon offers the feel of natural animal fibers such as alpaca or wool, but with the added benefit of anti-itch and non-allergenic qualities. Its chainette construction gives it a lightweight, plush feel that's ideal for keeping baby warm yet well-ventilated all year long. Plus, Modern Baby is completely machine washable. You simply can't go wrong with this amazing yarn!
Your Recently Viewed Projects