Mango Moon Mulberry Meadow Yarn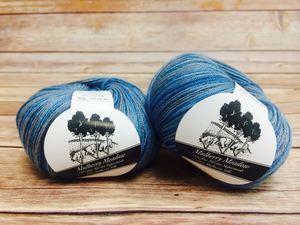 Mango Moon Mulberry Meadow Yarn
Gifted By: Mango Moon Yarns
www.mangomoonyarns.com
Reviewed by Madison Bowes, Editor, AllFreeKnitting.com
The Mulberry Meadow yarn is some of the softest I have ever felt. You can definitely tell the difference between this yarn and other brands, as just brushing up against it feels like running your hand over a rack of cashmere sweaters. This yarn would be extremely wearable for anyone, even those of us with sensitive skin. In six different variegated colors, Pebble, Tiger Lily, Sky (shown), Lupine, Brook, and Bark, this yarn would make a beautiful scarf or cardigan. Nature-inspired names are spot on for this collection, and each ball of yarn looks like it was infused with its namesake. This yarn is categorized as fine, with each ball measuring approximately 218 yards.
Mango Moon is a company that works with the Nepali Women's Empowerment Group and a spinners' co-op in Indonesia, so they are able to bring gorgeous, environmentally friendly products to your home. Their Mulberry Meadow Yarn, made in Italy, is a mix of 75% Merino Superwash and 25% Mulberry Silk; supporting a philanthropic company has never been easier than it is now, and you can feel great about using this gorgeous yarn in your next project.
Working with this yarn is easy, and you will not have to deal with unraveling at the ends. This yarn is definitely an investment, but it is well worth it for the gorgeous projects that will come from it. Keeping your yarn safe can be easier if you use a yarn bowl, and you will want to keep an eye on this because it is too beautiful to be your puppy's next chew toy.
Your Recently Viewed Projects