Can Yarn Be Recycled?
Learn what to do with yarn scraps when the answer isn't so easy.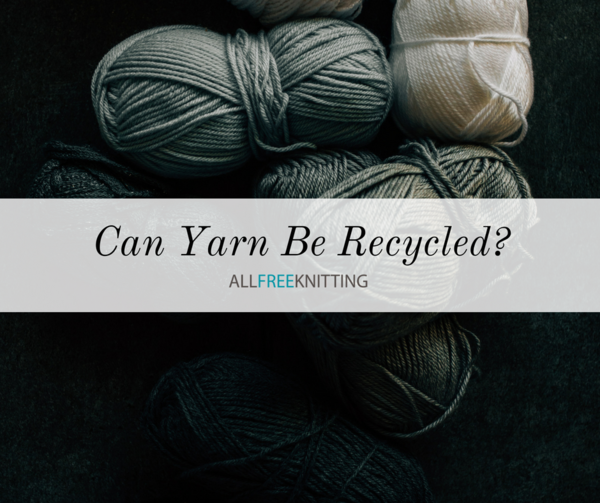 Can Yarn Be Recycled
While environmentalists everywhere are worried for the state of our planet, the spread awareness of global warming, deforestation, and other global concerns has led to a surprising increase in recycling. According to the United States Environmental Protection Agency, 34.6% of generated municipal solid waste was recycled and composted in 2014 compared to just 25.7% in 1995 and a staggering 6.4% in 1960. Though we're producing more waste now than ever, the upward trend in recycling is encouraging.

It's probably at least partially this trend that makes you stand in front of your garbage can, look at your yarn scraps and wonder, "Can yarn be recycled?" The truth is that unfortunately, no, yarn cannot be recycled... at least, it can't be thrown in the recycling bin and magically turned into new yarn. Waste Management gives us a short, handy list of what can be recycled: metals, paper, cardboard, glass, plastics, batteries and bulbs. But wait! Don't sigh in defeat and dump those yarn scraps in the garbage can. There's plenty more you can do with them.
How to Donate Yarn
My favorite way to dispose of partial skeins of yarn that I know I'm not going to use is to donate it to my local charity organization. I've even bought grab bags of half-skeins (and some full!) at Goodwill multiple times. Donating the yarn itself is an excellent option because you never know what other knitters or crocheters can have in store for it. There's no hard-and-fast rule as to how much yarn needs to be left in the ball for you to donate, since each charity shop has their own rules and regulations, so ask your local charity shop what they'll accept. If you cannot, or don't get a straight answer, I'd recommend trying to make sure at least half of the skein is still intact before you donate it.

However, that's not the only option for donating yarn! If you're on AllFreeKnitting, you're obviously a creative individual who loves to knit, and maybe even crochet, so you can turn those yarn scraps into something amazing to donate to charity. Many chemo caps can be made out of partial skeins, and local hospitals will often accept knit baby hats, which take so little yarn to create that you can wipe out your yarn scraps in just a few afternoons on dozens of hats. There are even organizations dedicated specifically to these sorts of things! Check out our list of knitting charities for incredible, heart-warming ways to recycle your yarn.
Things to Make With Yarn (Without Knitting!)
Maybe you have too little of the same yarn to donate or create even the smallest project out of... in fact, maybe you only have a few yards of this yarn, a few inches of that yarn, and you've been keeping it all in a big, plastic bag, waiting for a use for it all (guilty). If you live in an area with a lot of beautiful little birds and have considered leaving them out for mama birds to build their nests, please don't; according to goodknitkisses.com, yarn scraps can be deadly for small birds, who can get themselves tangled up and strangled in your leftover yarn. Even if your intentions are good, let's keep the small yarn scraps indoors and try some of the following projects to use them up.
What to Do With Yarn Scraps: 8 Knitting Patterns
Scrapbusters! You might have heard the term "scrapbusters" or "stashbusters" before, and essentially what these kinds of patterns are for is using up the last of your yarn in creative and unique ways. These patterns either use just a small amount of yarn, so you can create a single, tiny knit item, or they use small amount of various kinds of yarns for a larger, yet still cohesive (or unique and eclectic) project. We have a huge selection of scrapbusters here on AllFreeKnitting, so I've picked some of my favorites to share with you.
Your Recently Viewed Projects